South Korea Bear Says 'Socialist' President Will Hurt Stocks
Abhishek Vishnoi and Tom Redmond
Matthews says Moon's policies will be 'punitive' for business

Julius Baer research head 'would not own non-tech Korea'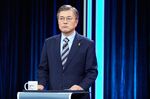 As stock bulls talk up everything from South Korea's cosmetics boom to expectations for a fast overhaul of the country's conglomerates, one longtime Asia hand says they're missing the big picture -- and they're wrong.
For Mark Matthews, who's been watching the South Korean and other Asian markets since 1993, President Moon Jae-in's policies ranging from property controls to price curbs will ultimately hurt companies' shares. Not only that, the "best days are over" for cosmetics firms, while optimism about reform of the powerful corporate groups known as chaebol is misplaced, the head of Asia research at Bank Julius Baer & Co. said.
Matthews says his company is overweight the country's equities because it's bullish on Samsung Electronics Co. and the semiconductor industry, but he says he's bearish on everything else in the market.
The president "is an old-fashioned socialist," Matthews said in an interview in Singapore, referring to what he sees as Moon's anti-business tendencies. "I don't understand why people don't pay more attention to this. The things they are rolling out are going to be very punitive for business."
Matthews pointed to property controls as one example, after the country announced measures to cool speculation in the housing market in August. He also cited plans to curb prices at telecommunications operators and to make it more difficult for big department stores to operate.
Moon swept to power in May with a pledge to reshape the country to benefit individual Koreans, after former president Park Geun-hye was impeached and ousted. As part of its five-year plan, Moon's government unveiled proposals in August to help address inequality, including raising the minimum wage.
"It's all social stuff that sounds good," Matthews said. "It's for the people," he said. But "I don't think it's good for business."
Cosmetics Stocks
Matthews said the best days are over for the world's fourth-biggest skin-care market, where Unilever agreed to pay $2.7 billion for a foothold last month. His logic is that China may look to remove a luxury tax on such products at home to boost its own market, which would hurt South Korean operators. Amorepacific Corp., South Korea's largest cosmetics maker, is down more than 16 percent this year.
He's also suspicious of the bull case that the arrest and imprisonment of Samsung heir apparent Jay Y. Lee in an influence-peddling and corruption scandal are reasons for optimism that South Korea is serious about overhauling the chaebol. That matters for bulls because the country's stocks have long traded at a discount due to concerns about corporate governance. As recently as August, the benchmark Kospi index was valued below the book value of its member companies.
For Matthews, the change at Samsung wouldn't have occurred if U.S. hedge fund Elliott Management Corp. hadn't pressed for it.
"The market looks at what happened with Samsung Electronics as a precedent for further reforms when it was actually a U.S. fund manager that caused the reform," he said.

Yet despite his pessimism, Matthews said his firm remains bullish about semiconductor companies, particularly Samsung Electronics. The company reported Friday that operating income almost tripled to a record 14.5 trillion won ($12.8 billion) in the three months ended September on booming demand for displays and memory chips.
The Kospi has surged 22 percent this year, with Samsung and fellow chip giant SK Hynix Inc. providing the biggest boosts to the equity gauge. The measure has advanced even after country's northern neighbor fired missiles over Japan and tested a hydrogen bomb as tensions ratcheted up with U.S. President Donald Trump and his administration.
The semiconductor cycle is "robust" as more devices start to use chips, so there's reason to be optimistic over the long term, Matthews said. The sector's stocks are certainly proving resilient: Samsung, for example, is up 51 percent this year after surging 43 percent in 2016. SK Hynix has almost doubled in 2017 alone.
Still, that's making people overlook the issues the market faces, Matthews said.
The impact of Moon's plans for the economy "is being masked by the terrific performance of the semi stocks," he said. "I would not own non-tech Korea."
— With assistance by Heejin Kim, and Min Jeong Lee
Before it's here, it's on the Bloomberg Terminal.
LEARN MORE