Rose McGowan Says Twitter Blocked Her After Weinstein Claims
By
Actress used her Twitter account to advocate against assault

Twitter says account included a private phone number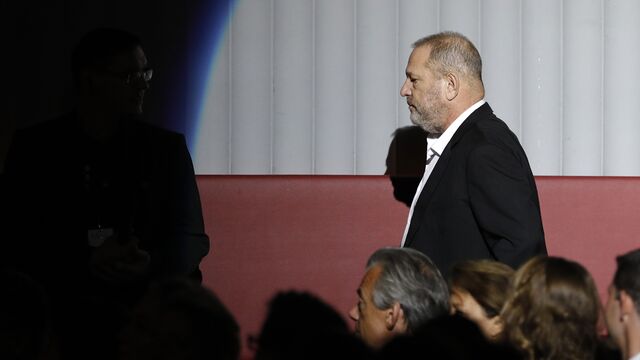 Following a series of sexual-assault allegations directed toward Hollywood producer Harvey Weinstein, actress Rose McGowan says Twitter "blocked" her from tweeting after she took to the social network to name and shame alleged offenders in the industry, and those who've been quiet on the matter.
McGowan shared a screen-shot she says she received from Twitter Inc. claiming that they've "temporarily limited some of" her Twitter account features, including ability to tweet, according to an Instagram post.
Twitter said her account had been temporarily locked because one of her tweets included a private phone number, which violates its terms of service. "The Tweet was removed and her account has been unlocked," Twitter said. "We will be clearer about these policies and decisions in the future."
Twitter's policy is that users may not incite the targeted abuse of others, promote violence, or publish other people's private and confidential information. Bloomberg LP is developing a global breaking news network for the Twitter service.
Using her Twitter account, McGowan earlier urged users to sign a petition demanding to dissolve The Weinstein Co. In other tweets McGowan listed the names of the Weinstein Company board, demanding their resignation. "They knew. They funded. They advised. They covered up. They must be exposed. They must resign."
The New York Times last week published an investigation that detailed sexual harassment allegations against Weinstein over three decades up to 2015. In light of the news, his entertainment company's board fired him by email. Hollywood actresses including McGowan, Gwyneth Paltrow and Angelina Jolie have said that Weinstein allegedly sexually harassed them and subjected them to unwanted physical contact.
Several users noted that Twitter's swift action in suspending McGowan contrasts with the growing criticism over the years that Twitter is ambivalent in policing users who troll women with sexual and violent content. Other users have tweeted that silencing a sexual assault victim discourages other women from reporting their experiences.
Twitter addressed the criticism, saying it's "proud to empower and support the voices on our platform, especially those that speak truth to power. We stand with the brave women and men who use Twitter to share their stories, and will work hard every day to improve our processes to protect those voices."
Twitter's policies have been in focus recently due to U.S. President Donald Trump, who has been keen to use the platform to make a range of statements. The company has held back on action barring the president from tweeting. Responding to queries on a tweet Trump sent Sept. 24 regarding North Korea that had potential to ring bells of war, Twitter said that they "hold all accounts to the same rules, and consider a number of factors when assessing whether tweets violate our rules." 
Among factors Twitter is considering "newsworthiness" and whether a tweet is of public interest. "This has long been internal policy and we'll soon update our public-facing rules to reflect it. We need to do better on this, and will," the company said in September.
The fact that Twitter hasn't closed Trump's account seems to be "a violation of Twitter's own rules," said Stephen Balkam, the founder of the Family Online Safety Institute, a non-profit organization that's part of Twitter's Trust and Safety Council. "If an ordinary citizen tweeted some of what he tweeted, I would think some of them would be taken down."
— With assistance by Selina Wang
Quotes from this Article
Before it's here, it's on the Bloomberg Terminal.
LEARN MORE