Puerto Rico's No-Conflict Governor Dodges Trump Tweet Again
By and
Rossello says he got assurance from White House on recovery

Governor still needs Trump as Puerto Rico seeks aid package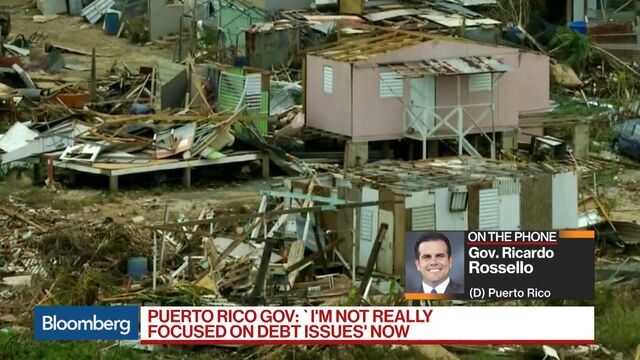 Puerto Rico Governor Ricardo Rossello on Thursday side-stepped another potential fight with the White House.
Hours after President Donald Trump warned on Twitter that federal forces shouldn't remain in Puerto Rico "forever," Rossello spoke to reporters in San Juan and essentially played down the comments.
The first-year governor said he had received assurances from White House Press Secretary Sarah Huckabee Sanders that the government wouldn't rush to withdraw the Federal Emergency Management Agency or other federal personnel, who have been on the island to some degree since Hurricane Maria decimated the commonwealth three weeks ago.
"As I've said on multiple occasions, I'm not here to interpret the president's statements," Rossello said, adding that he took the press secretary's assurances at face value. The White House also told him, according to Rossello's version of events, that successful recoveries have to have an end.
Rossello's tempered interpretation was starkly different than Trump's tone on social media. "We cannot keep FEMA, the Military & the First Responders, who have been amazing (under the most difficult circumstances) in P.R. forever!" Trump said on Twitter, citing a "total lack of accountability."
At a news conference later in the day, White House Chief of Staff John Kelly said that "our country will stand with those American citizens in Puerto Rico until the job is done. But the tweet about FEMA and -- and DOD -- read, military -- is exactly accurate: They're not going to be there forever. And the whole point is to start to work yourself out of a job, and then transition to the rebuilding process."
Trump has used his Twitter account to praise his own response to the catastrophe and attack the mayor of San Juan, Carmen Yulin Cruz, an early critic of the relief effort. He also stirred controversy in his visit to the island by comparing the crisis favorably to a "real catastrophe like Katrina."
The official death toll has roughly tripled to 45 since Trump made those remarks. About 83 percent of Puerto Ricans still have no power while a third of the island is without running water.
Cruz blasted the president's latest Puerto Rico tweets on Thursday. "Tweet away your hate to mask your administration's mishandling of this humanitarian crisis," she said in a statement sent to U.S. Representative Luis Gutierrez, an Illinois Democrat. "I ask every American that has love, and not hate in their hearts, to stand with Puerto Rico and let this President know we WILL NOT BE LEFT TO DIE."
For a profile on Governor Ricardo Rossello, click here.
But Rossello, 38, who aligns with the Democratic Party, has stayed out of the fray, apparently seeking to be a steadying force. In an interview last week, he said he has sought to stay focused and "eliminate any other narrative" that might distract from the recovery effort.
FEMA currently has about 1,060 people assigned to Hurricane Maria recovery efforts in Puerto Rico, compared with 3,900 for Harvey and 3,000 for Irma. In addition to FEMA, 16,450 federal civilian and military personnel are in Puerto Rico.
A Quinnipiac University poll released Thursday found that more than half of American voters say Trump and his administration have done enough to help Texas and Florida recover from hurricane damage but not enough to assist Puerto Rico.
Rossello attended the Massachusetts Institute of Technology and earned a doctorate from the University of Michigan. And he has held himself out as a results-oriented politician -- a numbers guy who pores over Excel spreadsheets where most politicians would outsource such tasks.
Rossello's political opponents on the island would hardly characterize him as post-partisan. Just this year, he forged ahead with a referendum on whether to seek statehood for Puerto Rico, despite a boycott from the opposition.
Still, he has refused to take sides in mainland politics during the crisis. Perhaps that's because he knows that the island -- which doesn't even have a vote in Congress, where Puerto Rico will need continued support for aid -- would have little to gain by alienating Trump.
The House passed a $36.5 billion hurricane and wildfire relief bill Thursday that would give Puerto Rico access to $4.9 billion in low-interest Treasury loans and allow the National Flood Insurance Program to keep paying claims.
— With assistance by Ezra Fieser
Before it's here, it's on the Bloomberg Terminal.
LEARN MORE