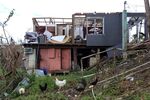 Subscribe to Bloomberg Benchmark on Apple Podcasts
Subscribe to Bloomberg Benchmark on Pocket Casts
Every week, hosts Dan Moss and Scott Lanman bring you a jargon-free dive into the stories that drive the global economy.
Before Hurricane Maria made landfall on Puerto Rico three weeks ago, the U.S. territory's economy was already in shambles, thanks in part to an overload of debt and decades of misguided policies. Now, after a terrible storm, things are much, much worse for the 3.4 million people there, and they're likely to stay that way for a while -- though measuring just how bad is the tricky part. Bloomberg reporter Jordyn Holman shares her recent experience reporting there, and Arthur MacEwan, an expert on the territory's economy, tells Scott how it got so bad in the first place.
Before it's here, it's on the Bloomberg Terminal.
LEARN MORE