Premier League Viewing Recovers While Facebook and Amazon Loom
By , , and
Audience figures show rise of 9% for BT, 8% for Sky: Enders

League is seeking more competition for rights at next auction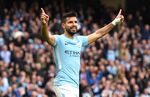 Early season viewing for Premier League soccer is up, offering a potential boost to prospects for a coming auction of some of the world's most lucrative sports rights.
Sky Plc, with rights to most games, has drawn an average of 819,000 TV viewers per match since the season began in August, up 8 percent over a year earlier, according to data compiled by Enders Analysis. BT Group Plc brought in 692,000 per match, an increase of 9 percent. In contrast, the 2016/2017 season started with a steep drop and ended down 10 percent overall.
The gains may allay concerns about declining audiences for Britain's top soccer competition in recent seasons as owners prepare to negotiate new rights for the U.K., seeking to increase their haul by attracting web players including Amazon.com Inc. The take-up also helps Sky and BT justify paying a record 5.14 billion pounds ($6.8 billion) together for the U.K. live rights last time, an increase of 70 percent and the largest in Europe for domestic rights.
"It's good in terms of viewing," Sky Chief Executive Officer Jeremy Darroch said on Thursday about the season's start. "This time last year it was down, so we've recovered pretty much that viewing. It's going well."

Soccer has long been key for Sky, which built its TV proposition on sports and has been lately seeking to emphasize a push into entertainment. BT's foray into soccer in recent years backed a new TV service that helped the carrier hold onto broadband subscribers. Both companies are under investor scrutiny to prove the prices paid for rights are delivering returns.
Last season, Sky and the league blamed the initial viewing declines on games clashing with the Olympics and the 2016 European soccer championship, as well as the popular Newcastle United being relegated to a lower league (Newcastle is now back in the Premier League).
But the drop also coincided with weaker viewing for the National Football League in the U.S., spurring theories of fan fatigue and that millennials are less likely to watch full matches on TV than their parents.
Owners of English soccer teams are hoping companies such as Facebook Inc. and Amazon.com will bid to push the price past that of the current three-year deal. The tech giants are showing increased interest in sports to help draw viewers to their online video services. Facebook is interested in live rights, but is still working out its approach, according to Dan Reed, head of sports. It hasn't committed to bidding on Premier League matches next year, he said at a roundtable interview earlier this month. 
Single-Game Passes
Changes in viewing behavior are causing broadcasters to focus more on social media and selling access to apps and single-game passes to spur interest, rather than restricting content to monthly TV subscribers. Sky on Thursday reported a 12 percent rise in pay-as-you-go sports and entertainment purchases in its fiscal first quarter.
The Premier League's encouraging early figures might indicate that recent attempts to crack down on piracy are having an impact, said Caspar Stewart, a media analyst at Enders. Manchester United, the most commercially successful club English club, also featured in two of the games shown by BT.
"They always tend to bring in the biggest audiences," Stewart said.
The figures from Enders, compiled from official Broadcasters' Audience Research Board data, don't include viewers who watch through Sky and BT's apps and Sky's no-contract Now TV service.
One Lens
"This is just one lens which has some relevance, but it's not the only lens," said Andy Haworth, managing director of strategy and consumer for BT Consumer.
The Premier League declined to comment.
Some analysts are skeptical that Sky and BT can afford to pay more for Premier League rights at the next auction which closes early in 2018, amid the backdrop of wider audience declines.
"Premier League on a standalone basis, i.e. excluding other channels and services, is not profitable for BT and not even for Sky anymore on my numbers," said Stephane Beyazian, an analyst at Raymond James. BT, in particular, is under close watch from shareholders after a profit warning and amid pressure from regulators to spend more on fiber broadband, he said. "That doesn't call for a crazy bid."
Sky's CEO said it's too early to say whether rights prices will increase again. Darroch reiterated his view that Sky has widened its offerings beyond sports.
"Football is great, Premier League is important, but it's only one part of the mix," Darroch said.
Before it's here, it's on the Bloomberg Terminal.
LEARN MORE