Politics
Paying the Price of Playing With Trump
Javier Palomarez, CEO of the U.S. Hispanic Chamber of Commerce, may have gotten too close to the president—and not close enough.
By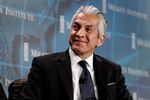 Javier Palomarez, chief executive officer of the U.S. Hispanic Chamber of Commerce (USHCC), wanted to be a key liaison between Donald Trump and Latino businesses. Yet improving relations with an anti-immigrant administration without alienating allies has proved impossible for Palomarez. Former constituents say his two years of jockeying between criticizing and cultivating Trump have cost him friends without gaining him influence.
"Javier just wanted to play in the sandbox with Trump, not looking at the consequences," says Frank Garcia, who leads the New York State Coalition of Hispanic Chambers of Commerce, one of several state groups that have parted ways with Palomarez's.
On Sept. 5, Palomarez resigned from Trump's National Diversity Coalition to protest the end of Deferred Action for Childhood Arrivals. "The moral costs of associating with this White House are simply too high," Palomarez wrote in an op-ed in the New York Times. Yet a week later, in a phone interview, Palomarez was upbeat about immigration policy, citing Trump's desire for legislation protecting DACA recipients. "It doesn't really mean anything to me whether I'm in the council or not," he said. "I continue to have high-level calls with the administration."
In September 2015, Palomarez angered USHCC members when he met privately with Trump and announced plans to host a Q&A with him. When Garcia said in front of a crowd at an organization event that he objected to Palomarez meeting Trump without local leaders' input, Palomarez responded by taking a bill from his wallet and offering it to Garcia as a dues rebate. "I meet with the Pope, I meet with the president, and if I want to, goddammit, I meet with Donald Trump," he said.
Palomarez's plans for a Trump Q&A came apart amid accusations from the USHCC that Trump tried to place topics off-limit. Trump countered that the group tried to hit him up for cash. Palomarez became an energetic critic of Trump, calling him a "clown" on TV. After the election, Palomarez again changed his tack. In July he said he'd met at least 18 times with cabinet members or advisers, turned down two White House jobs, and declined an offer from Ivanka Trump to give proceeds from her book to the USHCC. He recounted an early meeting with Steve Mnuchin in which the treasury secretary voiced support for every one of the tax reform priorities Palomarez was about to promote in a not-yet-published op-ed. "We're not a civil rights organization—we're a business organization," he said.
In August, Palomarez blasted Trump's response to Charlottesville, Va., while defending his own decision to remain on the diversity council. Three weeks later, he resigned over DACA. In the process, he drew scorn from both sides. Palomarez "has never been a member of our council," and his claims otherwise are "false," the diversity council's Vice Chairman Christos Marafatsos said in an email. In a September press release, the council said that Palomarez never accepted an invitation to become an adviser. "It feels like every step of the way he's really enamored with having the mic in his hand," says Marisa Franco, who directs the progressive advocacy group Mijente.
Some USHCC members appreciate what they say is Palomarez's objective approach. "This is about business," says Claudia Mirza, one of a group of women CEOs Palomarez brought to meet Trump. "Emotions right now are not going to give me any money."
Palomarez's group held its national convention on Oct. 1-3 in Dallas, featuring corporate executives and lawmakers such as Texas Republican Senator John Cornyn. "This is the way the game's always been played," Palomarez says. "You have to have access to the administration so you can state your case and hopefully impact policy so it is beneficial to your constituency." As for the White House, he says, "I think they are listening to us." —With Laura Colby
BOTTOM LINE -
U.S. Hispanic Chamber of Commerce CEO Palomarez has tacked back and forth between defending and criticizing Trump, with little to show for it.
Before it's here, it's on the Bloomberg Terminal.
LEARN MORE