Finance
Maria Made Puerto Rico's Giant Debt Even Trickier for Hedge Funds
A larger federal role in helping the island recover from the devastating hurricane could increase the pressure for bondholders to share the burden.
By , , and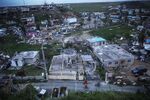 After President Trump said in an Oct. 3 television interview that Puerto Rico's debt would have to be forgiven, the price of bonds issued by the U.S. territory fell as much as 31 percent, a massive move in the staid world of municipal credit. The president has no direct control over a question that's being hashed out in the courts, yet the market's panic attack underscored a simple truth: Puerto Rico's insolvency, already a complicated and painful problem, has become thornier since Hurricane Maria slammed into the island on Sept. 20.
The Category 4 storm hit four months after the territory sought protection from its creditors in the largest U.S. municipal bankruptcy in history, with $74 billion in bond debt and an additional $49 billion in pension obligations. The need for cash now is far greater. Economic losses have been estimated at $30 billion to $95 billion after Maria wiped out the island's power grid and left most of its 3.4 million inhabitants without running water and with shortages of food and medicine. Puerto Rico's treasurer, Raúl Maldonado, says the government will run out of cash by the end of October; the territory has asked Congress for $6 billion to $8 billion immediately so it can meet expenses including salaries, emergency repairs, and pension payments. Meanwhile, in a series of tweets on Thursday morning, Trump wrote that "We cannot keep FEMA, the Military & the First Responders... in P.R. forever!"
Then there's the outstanding debt. About 30 percent of the bonds are owned by hedge funds. In 2015 the funds were labeled by many as vulture investors for pushing back when Puerto Rico's governor said the mountain of borrowing was "not payable." Firms including Fir Tree Partners, Brigade Capital Management, and Monarch Alternative Capital commissioned a report by three former International Monetary Fund economists that said the island could meet its obligations by raising taxes and cutting costs for education and Medicaid benefits. (Some of the cuts were previously recommended by a consultant hired by Puerto Rico.) While the funds argued that full payment of some bonds was possible, credit rating company Moody's Corp. predicted investors could have to take a haircut—that is, accept a loss on the principal value of the bonds. In a default, payouts could have been anywhere from 35¢ to 80¢ on the dollar, depending on the bonds, Moody's said.
Bondholders meanwhile were battling each other over pieces of the ever-shrinking pie. Before the bankruptcy, the biggest court fight was between owners of so-called Cofina bonds, which are paid from sales tax revenues, and those with general obligation bonds, whose payments aren't linked to one specific revenue source and are guaranteed by the island's constitution. The general obligation holders argued that hundreds of millions of dollars in sales taxes should be paid to them. Now that the territory is in bankruptcy, courts also have to weigh the interests of pensioners.
Puerto Rico's financial troubles date to 1996, when Congress said it would phase out a law that made the island a tax-free zone for U.S. pharmaceutical, textile, and other manufacturers operating there. The law had spurred growth for almost three decades. When it was phased out completely in 2006, the territory turned to the debt markets to fill the gap created by lost jobs and a dwindling population. Since 2008, about 400,000 people have left.
Two things made the bonds extremely attractive. Unlike most muni bonds, interest that they pay is triple-tax-free—at the federal, state, and local level—no matter where in the U.S. the bondholder lives. Like states, the territory wasn't eligible to file for bankruptcy. That gave investors comfort that they would be paid back. What could go wrong?
About $7 billion in bond debt is owed to island residents. Muni bond mutual funds also piled in, with OppenheimerFunds, Franklin Templeton, and Goldman Sachs Asset Management among the biggest buyers. Some hedge funds waded in a few years later as prices fell into junk territory. Some investors paid from 60¢ to 70¢ on the dollar for the most senior debt, betting they would continue to receive interest on the bonds—capturing a high yield on their bargain-basement investment—and eventually be paid back at a better price.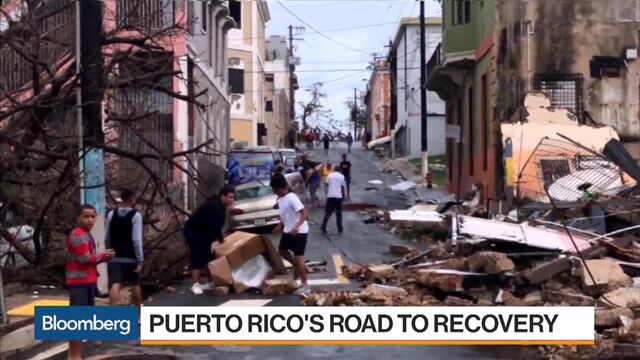 But in 2016, Congress passed legislation designed to protect the island from creditor lawsuits; it also created a financial control board with the power to restructure its debt. In addition, the law opened the door for Puerto Rico to declare a form of bankruptcy, which it did in May. The control board and the creditors are negotiating in court how much the territory will pay.
Creditors expect that the Federal Emergency Management Agency will pay for costs to rebuild hurricane-shattered infrastructure not covered by insurance. Whether it comes up with additional cash to modernize the power grid and other public works remains to be seen. Federal aid raises a sticky question: If U.S. taxpayers send money to the island, might some of it end up going to the bondholders who took a risky bet? As a legal matter, bankruptcy experts say federal disaster aid will have to go directly to rebuilding. "People need to keep in mind that when a government is in bankruptcy that the rules are different than in a corporate case," says Melissa Jacoby, a law professor at the University of North Carolina at Chapel Hill. "There are fundamental obligations to the residents—you have to make sure people have electricity and drinking water."
Indirectly, however, any money from taxpayers leaves a larger pool from which creditors could draw. And immediate disaster aid may not be all the federal government pays as it becomes clear the island's economy will take years to recover. A larger federal role in helping Puerto Rico could increase the political pressure for bondholders to share the burden and take a bigger haircut. Although White House budget director Mick Mulvaney walked back Trump's debt forgiveness comments, and Trump's tweets have suggested that Puerto Rico's financial problems are of its own making, the president's intuition about wiping out bond debt resembled that of many on the other side of the political divide. "We have to rethink the development strategy for the island," says Héctor Figueroa, chair of the Service Employees International Union's Puerto Rico Task Force. "That's why we think nothing short of a Marshall Plan is needed for Puerto Rico, nothing short of the debt being canceled or postponed for a very, very long time."
Bondholders have argued that by coming to terms with them, the island can retain its ability to tap capital markets. Jacoby points to Detroit's insolvency for clues to a possible outcome. There, some bondholders took huge cuts, while pensioners were promised higher future payments than were originally proposed and the city got to keep the collection at the Detroit Institute of Arts rather than sell it to pay bills. At least one fund manager who wasn't lured by the high yields on the island's bonds predicts investor recovery will be minimal. "Puerto Rico is just a simple Math 101 question," Kyle Bass, who runs Hayman Capital Management LP, said in a Bloomberg Television interview. With only about a million people working before the storm, "you have to be a little crazy" to think the debt would be worth anything, he said. —With Steven Church, Kate Smith, and Josh Eidelson
BOTTOM LINE -
As the U.S. considers how to help Puerto Rico recover, the political and economic questions around paying back bondholders have become more complicated.
Before it's here, it's on the Bloomberg Terminal.
LEARN MORE