Lawmakers Seek New Way to See RBS Report After FCA Blocks Access
By
Treasury Committee appoints lawyer to look at FCA report

FCA refused to publish findings on bank's lending practices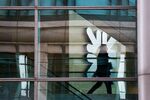 U.K. lawmakers are stepping up pressure on the Financial Conduct Authority to provide more information on a report into the business lending by Royal Bank of Scotland Group Plc after the regulator refused to publish the document last month.
Treasury Committee Chair Nicky Morgan wrote to the agency's chief executive officer this week proposing an independent lawyer review the report on the committee's behalf, according to a copy of the letter made public Friday. The panel suggested Andrew Green, a senior London trial lawyer, see the report to ensure a summary the FCA has agreed to provide accurately reflects its findings.
The move comes after FCA chief Andrew Bailey refused Morgan's request last month to provide the committee with the full RBS document after it was leaked to the media. The report looks at RBS's practices involving clients referred to its so-called Global Restructuring Group, or GRG. A government consultant claimed in 2013 that the bank had pushed small companies that owed it money into difficulties to help bolster earnings.
"The committee wants the maximum possible transparency to be brought to this long-standing issue," Morgan said in a statement Friday. "If the FCA declines this proposal, or if the legal adviser cannot provide the committee with the assurances it needs, the committee may use its formal powers to require the FCA to produce the report."
Bailey told Morgan in September that while he recognized the public interest in the report, the document was compiled with the understanding that it would remain private. Publishing it could undermine the regulator's approach with other firms, he said.
Morgan has asked Bailey to respond to the committee's latest request by Monday.
"To provide assurance on the summary we previously asked an independent external counsel to confirm that it is a fair and balanced account of the full report's findings," the FCA said in an emailed statement. "We welcome further dialogue with the TSC on providing assurance about the publication of the summary."
No stranger to FCA investigations, Green was previously appointed to review the regulator's actions over the 2008 near-collapse of HBOS Plc. In a report of his findings, published in 2015, Green criticized the watchdog's enforcement division, saying the agency should have conducted a wider probe of those responsible.
RBS said in November it would take a 400 million-pound ($527 million) charge to cover refunded fees to small-business customers after a review of clients referred to its GRG unit between 2008 and 2013.
Quotes from this Article
Before it's here, it's on the Bloomberg Terminal.
LEARN MORE