Italy Risks Government Crisis With Vote on Electoral Reform
By
Premier Gentiloni set for third confidence vote on reform

Little sign of market concern over 64th government since WWII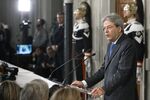 Italy risks a government crisis and early elections if Prime Minister Paolo Gentiloni loses a vote in parliament on reform of the electoral system.
Gentiloni's government won a third confidence vote in the lower house on Thursday as it attempts to push through the change. But a final vote due by Friday is less certain. That vote will be held in secret, meaning that lawmakers are not identified, thus affording them cover to torpedo the bill.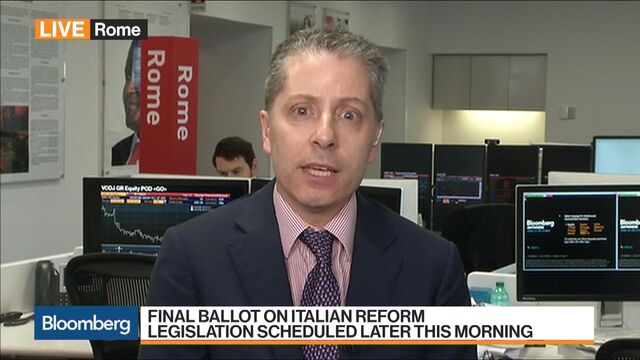 The Turin newspaper La Stampa reported earlier Thursday that Gentiloni's entourage believes he would have to hand his resignation to President Sergio Mattarella if he loses the final vote -- with elections possibly in February. The paper quoted unnamed state officials as saying however that resignation was not inevitable.
"If Gentiloni loses the final vote, he won't have to quit automatically because it isn't a confidence vote on the government, it's on one reform," Franco Pavoncello, president of John Cabot University in Rome, said in a phone interview. "But that will greatly weaken the government, it could lead to pressure for a new vote of confidence soon."
Electoral 'Coup'
Italy has had 64 governments since World War II and the disputed electoral reform is raising the specter of political crisis once again, with elections due in the first half of next year. The changes proposed by Gentiloni's government would penalize the populist Five Star Movement because they favor parties that form coalitions, whereas Five Star prefers to go it alone.
Five Star lawmaker Alessandro Di Battista denounced the reform in a Facebook post as "an institutional coup d'etat" worthy of the late Fascist dictator Benito Mussolini. The reform's backers, including Gentiloni's Democratic Party, ex-premier Silvio Berlusconi's Forza Italia and the anti-migrant Northern League, argue it harmonizes electoral systems for the lower house and the Senate, and facilitates stable government.
Opinion polls show three blocs are virtually tied -- the Democrats, Five Star and any possible center-right coalition including Forza Italia and the League. "If the reform is approved, parties are going to have to talk to try to set up coalitions -- Five Star excepted," said Pavoncello. "I see the Democrats and Forza Italia as the core of a coalition which has the greatest chance of achieving a majority, but I wouldn't take anything for granted."
Investors showed little concern at the prospect of political crisis. While stocks were down about 0.5 percent as of 12:58 p.m. in Rome, Italian government bonds rose.
Fabio Fois, senior European economist at Barclays Plc in Milan, said there's no obligation for Gentiloni to resign if he loses the secret vote. Even if he did, "we would expect Mattarella to refrain from dissolving parliament ahead of the budget season and only a few months before the conclusion of the legislature," Fois said in a note to clients.
A spokesman for Gentiloni did not immediately respond to a request for comment. If approved by the lower house, the bill would go to the Senate, where the government has a smaller majority, for a vote likely on Oct. 17.
Before it's here, it's on the Bloomberg Terminal.
LEARN MORE