Missile Threats Aren't the Only Problem for South Korean Bonds
By and
JPMorgan rates Korea as worst among emerging Asia debt markets

Korean bonds saw biggest 1-day outflow in 3 years on September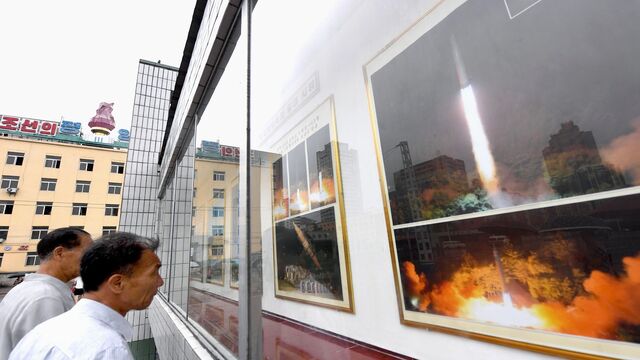 South Korea's bonds may have weathered missile tests and the specter of a nuclear attack but a new danger threatens to stem inflows.
Annual inflation in Asia's fourth-largest economy accelerated to the fastest in more than five years in August, sapping returns from fixed-income payments. JPMorgan Asset Management rates South Korean debt last among Asian emerging-market government bonds, while Manulife Asset Management is underweight as rising global yields reduce their relative appeal.
"Korea is one of the few Asian regions where inflation is above expectation, while the growth outlook is also on the strong side," said Gregory Suen, investment director of fixed income at HSBC Global Asset Management, which oversees $447 billion globally. "We are relatively more bullish on India, Indonesia and Thailand. All three markets have low or lowering inflation expectations, which is supportive of bond prices."

Korean inflation quickened to 2.6 percent in August, the fastest since April 2012, before easing back to 2.1 percent in September. The yield on benchmark 10-year bonds closed at 2.39 percent on Thursday, up from just 1.36 percent in July 2016.
The so-called real yield, or the yield on the securities subtracting the annual inflation rate has dropped to 0.29 percent, compared with 3.38 percent in India and 2.86 percent in Indonesia.
"Korea is less preferred at the moment due to unattractive nominal and real yields on a net tax basis," said Stephen Chang, Hong Kong-based head of Asian fixed income at JPMorgan Asset, which oversees $1.87 trillion. "We expect high yielders to remain better supported by the search for yield in addition to decent real rates compensation."
Bond Headwinds
An improving economic outlook is adding to the headwinds for South Korean bonds. The central bank raised the country's 2017 growth forecast in July to 2.8 percent from 2.6 percent. Exports increased for an 11th month in September and a 11 trillion won ($9.7 billion) supplementary budget is expected to further support growth.
The economy has been improving even as tensions between North Korea and the U.S. have escalated this year. The communist regime conducted its first-ever intercontinental ballistic missile test in July and its most powerful nuclear test in September. North Korea's foreign minister told Russian journalists that Donald Trump lit the "fuse of war" when the U.S. president labeled Kim Jong Un as "Rocket Man" in a speech at the United Nations, according to a report from Tass news agency.
Overseas investors have poured $27.9 billion into South Korean bonds in 2017, more than double the amount for the whole of 2016. Still, the strain may be starting to show. They pulled out 2 trillion won from the nation's sovereign debt on Sept. 26, the biggest one-day outflow since at least 2014. 
Won-denominated bonds are also losing appeal as rising U.S. interest rates narrow their yield premium. The spread between 10-year South Korean sovereign debt over similar-maturity Treasuries has shrunk to just nine basis points from a two-year high of 25 basis points in early September.
The Federal Reserve is forecast to raise interest rates for the fifth time in two years in December, while central banks across the developed world are also sounding more hawkish -- pushing up global bond yields.
"Further gains in the lower-yielding EM Asia government bond markets are likely limited, as those markets are most susceptible to higher Group-of-10 rates and the potential for a rebound in the U.S. dollar," said Neal Capecci, a London-based managing director for fixed income at Manulife Asset Management, which oversees $370 billion. "The unwind of accommodative monetary policy by developed market central banks represents a significant risk to the EM Asia government bond trade."
— With assistance by Hooyeon Kim, and Whanwoong Choi
Before it's here, it's on the Bloomberg Terminal.
LEARN MORE