Business
Fur Suddenly Looks Unfashionable in the World of High Fashion
Gucci's move to drop fur marks a shift toward social responsibility.
By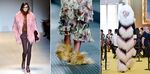 When the world's most successful fashion brand drops fur from its lineup—everything from $1,000 kangaroo-hide slippers to $19,000 dyed-pink fox coats—it's proof that responsible business practices have become more stylish than any runway designs.
Italian fashion house Gucci says it will sell its remaining fur items in a charity auction and won't create any new ones as of next spring. Though the company continues to sell crocodile-skin handbags and myriad offerings made from leather,  animal-rights groups called the move a watershed in their long campaign against the use of mink, fox, rabbit and other hides by the luxury industry.
"For this powerhouse to end the use of fur because of the cruelty involved will have a huge ripple effect throughout the world of fashion," Kitty Block, president of the Humane Society International, said in a statement Thursday.
The decision shows how concerns about responsible business practices have migrated from the Birkenstock brigade to the loftiest levels of a $250 billion industry that has long celebrated excess. High-end brands are joining consumer-goods giants like Unilever and Nestle SA in responding to growing ethical, environmental, and social awareness among consumers, especially millennials.
"Today's shoppers don't want to wear the skins of animals," said Ingrid Newkirk, co-founder of People for the Ethical Treatment of Animals.
While the likes of Giorgio Armani SpA, Ralph Lauren Corp., Stella McCartney, and luxury e-commerce platform Yoox Net-a-Porter Group SpA, had already stopped selling fur, Gucci's move carries extra weight because it's the hottest label in fashion, with sales up 45 percent in the first half of 2017. And under designer Tom Ford in the 1990's, it cultivated a devil-may-care image—making the conversion to social responsibility led by Chief Executive Officer Marco Bizzarri even more striking.
The move will increase pressure on Canada Goose, Fendi, and other big label fashion houses that still use fur, but they're unlikely to rush for the exits. Fendi, for instance, has grown rapidly in recent years with its trademark Baguette fox handbags and "haute fourrure" looks by Karl Lagerfeld.
Gucci, the flagship brand of French luxury conglomerate Kering, cited the "deprivation and cruelty suffered by fur-bearing animals" in announcing the decision.
"By committing to a culture of purpose, taking responsibility and encouraging respect, inclusivity, and empowerment, we want to create the necessary conditions for a progressive approach to sustainability," Bizzarri said in a statement.
Gucci's move comes amid a broader push by the luxury industry to become more socially and environmentally aware, following scrutiny of everything from its carbon footprint to its treatment of runway models.
Kering and Paris-based rival LVMH last month agreed to curb the use of ultraskinny and underage models. LVMH, the world's largest luxury-goods maker, says it aims to get almost one-third of its electricity from renewable sources by 2020. And Kering has said it wants to eliminate hazardous chemicals from its supply chain by 2020 and ensure its leather, gold, and diamonds can be traced to company-approved sources by 2025. Its Stella McCartney brand has long advocated the use of synthetic leather in footwear.
Animal-rights activists have picketed fashion shows for decades, protesting the use of fur. In the 1990s, they enlisted supermodels such as Naomi Campbell, Cindy Crawford, Christy Turlington, Claudia Schiffer and Elle Macpherson for a campaign that declared "I'd rather go naked than wear fur."
Brands held off on responding until it became clear their customers were starting to pay attention. Two-thirds of consumers globally in a Nielsen survey in 2015 said they'd spend more for sustainable brands, and among millennials, that figure is 73 percent.
In a speech in London on Wednesday, Bizzarri condemned fur with the ultimate put-down for a business that's constantly searching for something new, describing the material as "outdated."
"That's the reason why we decided" on the shift, he told students at the London College of Fashion. "Creativity can jump in many different directions instead of using furs."
Before it's here, it's on the Bloomberg Terminal.
LEARN MORE