Optimism About French Economy Is Justified by Reforms, Le Maire Says
By
Finance minister says growth could surpass official forecast

Labor law passed, Macron turns to unemployment insurance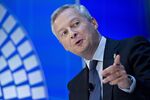 Finance Minister Bruno Le Maire told officials gathered in Washington that he sees many reasons to be confident about the economic outlook for France, notably the determination of President Emmanuel Macron's government to implement reforms.
Macron was elected on a platform of revamping the euro zone's second-largest economy, meaning the administration has a mandate to deliver change, Le Maire said. He was speaking on a CNN panel that host Richard Quest kicked off by stating that France is the "most reformist" country in the world.
"On France, there are a lot of reasons to be optimistic," Le Maire said. "This economic recovery is strong. Investment is rising, the mood is better, the overall situation feels really good."

Multiple forecasts show French gross domestic product is on track to expand at least 1.7 percent this year, meaning that the country will see its strongest growth since 2011. The finance ministry says the expansion will continue at the same pace next year, though Le Maire has said that it may surpass the official prediction.
After five months in office, Macron has just pushed through a landmark reform of labor rules that offer companies more flexibility in setting working times and implementing job cuts. In Paris Thursday, the 39-year-old president started a fresh round of talks with unions and business groups intended to overhaul job training and the unemployment-insurance system.
Le Maire is in Washington for meetings with Group of 20 finance ministers and central bankers hosted by the International Monetary Fund. Thursday he has also held talks with U.S. Treasury Secretary Steven Mnuchin and JPMorgan Chase & Co. Chief Executive Officer Jamie Dimon.
Le Maire noted that the government has also set out a 2018 budget that will trim taxes and public spending and vowed to press ahead with reforms. In the long run, the effort will only be successful if the government also manages to narrow the gap between rich and poor at the same time, he said.
"We have to accelerate the process of reform," he said. "We have to reduce the gap between the haves and the have-nots if we want the situation to be sustainable."
Before it's here, it's on the Bloomberg Terminal.
LEARN MORE