Five Things You Need to Know to Start Your Day
Get caught up on what's moving markets in Asia.
By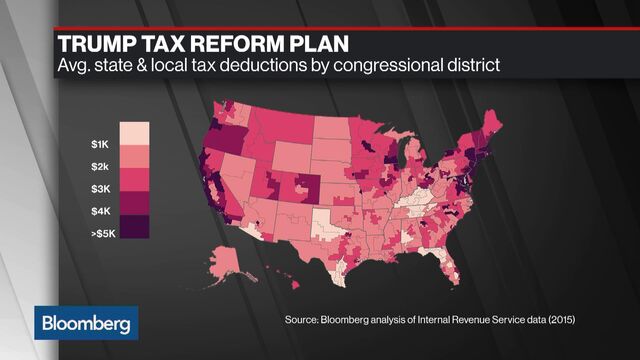 Want to receive this post in your inbox every morning? Sign up here.
Tax reform proves taxing, Singapore growth and central bank decision due out, and Brexit talks rattle the pound. Here are some of the things people in markets are talking about.
Gimme a Break
Tax reform can be...taxing. U.S. President Donald Trump was reportedly upset after learning that a tax break his White House proposed to scrap might actually mean that middle-income Americans see their tax burden rise. A conservative-leaning think tank estimated that a $400,000 income cap on state and local deductions, a move that has support among some House Republicans in relatively blue-leaning states, would reduce tax revenues by $1 trillion if applied to the framework unveiled by the administration and lawmakers. Somewhat counterintuitively, however, the lack of progress on this file might be good news for U.S. equities. A look at the market's assessment of an aggressive monetary offset of previous tax cuts, authored by researchers at the central bank, suggests stocks might not be big winners if Trump's plan comes to pass.
Coming Up...
The advance reading on Singapore's third-quarter GDP is due out at 9:00 a.m. Tokyo time, and forecast to accelerate to 3.7 percent from 2.2 percent. The pick-up in growth could elicit a hawkish shift in language from the Monetary Authority of Singapore, which meets on Friday and is nearly universally expected to keep its policy stance unchanged. The Reserve Bank of Australia will release its Financial Stability Review; we may also get an update on Chinese trade figures for September. U.S. consumer price inflation, released well after Asian markets close on Friday, could rattle bond markets and set the tone for the start of trading next week.
Pound Whiplash
Conflicting reports on the state of Brexit negotiations sparked major volatility for the British pound on Thursday. The currency fell as much as 0.8 percent against the greenback after chief E.U. negotiator Michel Barnier said the sides had reached a "deadlock," seemingly confirming fears that talks were going in the wrong direction. The pair then reversed all losses to soar to a session high after German newspaper Handelsblatt said Barnier was looking to offer the U.K. a two-year transition period to iron out the details of its future relationship with the union, reducing the odds of a "hard Brexit" that ends with no deal. Add a Bank of England that's seen as likely to hike rates on Nov. 2 into the mix and it's not hard to see why the pound might be in for a few more rollercoaster sessions before the year is out.  
Bank Earnings
Low volatility and softening consumer creditworthiness proved worrisome themes as JPMorgan Chase & Co. and Citigroup Inc. kicked off earnings season for U.S. financials, with both warning that credit card defaults are likely to swell. While the pair managed to exceed analysts' profit expectations amid margin expansion and cost cutting, shares fell on the day. JPMorgan Chairman Jamie Dimon, for his part, also said he was through talking about bitcoin after previously calling the cryptocurrency a "fraud."
Pullback
U.S. stocks retreated from record highs on Thursday, with financials leading the way down. Moving up the risk spectrum, bitcoin posted another blistering advance, breaking above $5,000. West Texas Intermediate futures fell more than 1 percent after the International Energy Agency signaled that the global surplus of oil would persist – even as the weekly U.S. crude inventories report showed a larger than anticipated drop in stockpiles. Ten-year Treasury yields dipped; the Bloomberg Dollar Spot Index rose. Nikkei 225 and S&P/ASX 200 futures are little changed ahead of the open.
What we've been reading
This is what caught our eye over the last 24 hours.
Before it's here, it's on the Bloomberg Terminal.
LEARN MORE