Citi's Corbat Resumes Cost Squeeze as Bond Trading Slumps
By
Bank trims third-quarter expenses 2% to lowest level this year

Net income rises 8% to $4.13 billion as revenue tops estimates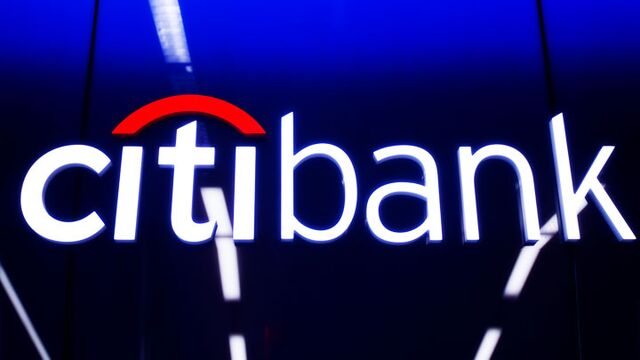 Citigroup Inc. Chief Executive Officer Michael Corbat is relying on his old cost-cutting playbook while he waits for a breakthrough in Washington or trading activity to revive revenue.
The bank squeezed third-quarter costs 2 percent as Corbat pushed managers to keep a lid on spending. His investment bankers, stock traders and lending operations are having to pull the firm through a renewed bond-trading funk. Those efforts helped the company operate more efficiently than it said it would just one month ago.

Citigroup -- which gets more revenue from fixed-income trading than any of its other Wall Street businesses -- is among big banks waiting on President Donald Trump's administration to push through tax cuts and lift rules that curb risk-taking. Investors unfazed by Washington's gridlock in recent months have pushed up the firm's stock, while the company looks to earn more from units serving corporations and consumers.
"We had revenue increases in many of the products we have been investing in, tightly managed our expenses and again saw loan growth," Corbat, 57, said Thursday in a statement announcing quarterly results.
The firm's better-than-expected expense line "is most powerful" as it shows the bank's ability to drive operating leverage, Morgan Stanley analyst Betsy Graseck said in a note to investors.
The bank's shares rose 0.8 percent to $75.56 at 9:15 a.m. in early trading in New York. The stock has surged 26 percent this year through Wednesday, the second-best performance in the 24-company KBW Bank Index.
Citigroup was the second large U.S. bank to report third-quarter results. JPMorgan Chase & Co. earlier Thursday posted fatter profit and revenue even as trading declined. An increase in corporate loans, the highest lending margin in 4 1/2 years and record profit in asset management helped the lender top analysts' estimates.
See also: JPMorgan profit machine motors on even as trading revenue slumps
Citigroup's revenue rose 2 percent to $18.2 billion, exceeding all six analyst estimates compiled by Bloomberg. But the figure was boosted by a $580 million pretax gain from selling a fixed-income analytics business that investors were told to expect. Without that, revenue would have declined from a year earlier.

Provisions for credit losses climbed 15 percent to $2 billion, reflecting increased losses within the North America consumer-banking business and a decision to set aside more money to cover future shortfalls. The bank added $500 million to reserves in the cards business, based on its expectations for soured loans and the impact of recent hurricanes.
Operating expenses fell to $10.2 billion. That helped the bank achieve a 56 percent efficiency ratio, beating its own forecast. At an investor conference in mid-September, Chief Financial Officer John Gerspach had projected it would be a "little bit higher" than 58 percent.
Costs have been a big theme of Corbat's career. In 2009, then-CEO Vikram Pandit tapped him to run Citi Holdings, a collection of unwanted assets tagged for sale. Corbat's job was to extract as much revenue as possible by winding down and selling off the pile, while limiting the drag of its expenses on the company's bottom line.
Bond Trading
His performance there gave him exposure to the board, clearing his path to the CEO's office after a stint running operations in Europe, the Middle East and Africa. Since then, he has further whittled expenses by cutting headcount, underperforming businesses and the company's real-estate footprint.
By the end of 2016, expenses hit a 13-year low, according to data compiled by Bloomberg. Yet Citigroup then allowed them to tick up in the first half as it spent money to market credit cards and set aside funds to reward traders and investment bankers for improved performance.
Bond traders struggled to deliver in the third quarter. Revenue slumped 16 percent from the year earlier to $2.88 billion, matching the expectations of analysts surveyed by Bloomberg. Their peers in stock trading did better, posting $757 million in revenue, a 16 percent increase. That performance outpaced analysts' estimates by about $120 million.
The 11 percent decline in total trading from a year earlier was better than the 15 percent drop that Gerspach predicted last month.
Profit Rises
Bright spots elsewhere included investment banking, where revenue rose 14 percent to $1.23 billion, exceeding analysts' $1.12 billion estimate. In corporate lending, it increased 14 percent to $502 million.
Altogether, net income rose 8 percent to $4.13 billion, or $1.42 a share. The average estimate of 20 analysts surveyed by Bloomberg was for adjusted per-share earnings of $1.32.
Revenue in the institutional clients group, run by President Jamie Forese, rose 9 percent to $9.2 billion. Its net income increased 15 percent to $3.05 billion. In the global consumer banking unit overseen by Stephen Bird, revenue rose 3 percent to $8.4 billion. Profit slipped 6 percent to $1.17 billion.
In July, Citigroup held its first investor day in nine years. Corbat declared that the bank's "restructuring is over" and set new financial targets, including annual efficiency savings of $2.5 billion within the next three years.
The company bought back 81 million shares in the third quarter, the first purchase under a capital plan approved by the Federal Reserve in late June. With the central bank's consent, Citigroup doubled its dividend and said it would buy as much as $15.6 billion in shares. This quarter's actions drove its payout ratio to 165 percent.
For Corbat, returning money to shareholders is a critical piece of his profitability target. For investors, it's a key element to their thesis.
— With assistance by Felice Maranz, and Dan Reichl
Before it's here, it's on the Bloomberg Terminal.
LEARN MORE