Jim Chanos's Short Hedge Funds Have Fallen This Year
By
Kriticos, Ursus funds at Kynikos firm saw declines last month

Chanos short bets include Tesla, Continental Resources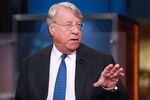 Legendary short-seller Jim Chanos is losing money in his two hedge funds that bet against companies amid a market rally, which has pushed stocks to record highs.
Chanos, the founder of Kynikos Associates, lost about 1 percent in his Kriticos fund during September, bringing the decline to 10.7 percent this year, according to an investor document seen by Bloomberg. His Ursus strategy fell 2.2 percent last month and 6.5 percent in the first nine months of 2017.
Despite the drop, Chanos will get compensated for the performance because clients pay him if he's down less than the market is up. The S&P 500 has returned about 16 percent this year.
The hedge fund manager, who oversees more than $2 billion, is one of the few still running a big fund oriented toward betting against stocks. Several money managers once revered for their short wagers are now struggling as U.S. stocks are up almost fourfold from their 2009 crisis-era low. Crispin Odey's European long-short equity fund lost 14 percent this year through mid-September, following a 50 percent slump in 2016. David Einhorn, known for profitably shorting Lehman Brothers Holdings Inc., has been frustrated by attempts to short a portfolio of momentum technology stocks that he's called the "bubble basket."
Chanos, who predicted the 2001 collapse of Enron Corp., has pounded the table on his bet against electric vehicle maker Tesla Inc., calling the company "structurally unprofitable" with an overly indebted capital structure. While Tesla shares have gained 68 percent this year, he's never been more convinced of his thesis, even as the stock remains "a poster child for the hopes and dreams of this bull market," Chanos told Bloomberg Television last month.
Read more on Chanos's Tesla bet here
His other strategies include a handful of wagers against U.S. shale producers in the Bakken region, such as Continental Resources Inc., and kidney dialysis companies. He's given up on a bet against Alibaba Group Holding Ltd., covering the position in January. That's saved him from suffering even steeper losses as U.S. listed shares of the e-commerce company have surged 108 percent this year.
He is, though, outperforming peers in two of his other hedge funds that can take long positions and invest across assets. The flagship Global Capital Partners fund is up 15.2 percent this year through September, while the Capital Partners fund has surged 18.2 percent, the document showed. On average, hedge funds gained 4.3 percent over the period on an asset-weighted basis, according to Hedge Fund Research Inc.
The Kynikos Opportunity fund, which follows a global market neutral strategy, has gained 1.1 percent in 2017.
— With assistance by Simone Foxman
Quotes from this Article
Before it's here, it's on the Bloomberg Terminal.
LEARN MORE