BMW's Mini Talks in China Show Brexit Pressure Building in U.K.
By
China's Great Wall said in talks to make iconic British brand

BMW sees 'uncomfortable scenario' on looming UK trade tariffs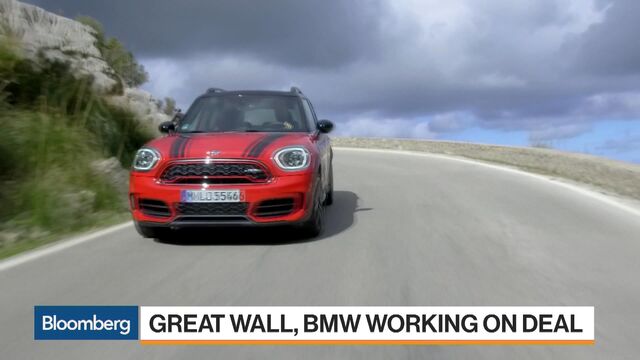 BMW AG's discussions over making Minis in China could deal a blow to the quintessentially British brand's U.K. operations, already under threat because of Brexit.
The German automaker, which bought Mini in 1994, is working on a deal with Chinese sport utility vehicle manufacturer Great Wall Motor Co. to build the cars for export, according to people familiar with the talks who asked not to be identified. Should an agreement be struck, it would mark the first time the iconic car would be made outside of Europe.
A deal with Great Wall would further cloud the future of BMW's plant in Oxford, England, which makes the majority of Minis. While BMW committed in July to building its forthcoming electric Mini in the U.K. from 2019 until 2023, key components will come from sites in Germany. The relatively short time-frame would allow the company to shift production elsewhere with the car's next revamp should tariffs surge when Britain quits the European Union.
"Without exceptionally competitive trade conditions with all major markets, manufacturing in and exporting from the U.K. will face devastating challenges," Arndt Ellinghorst, a London-based analyst with Evercore ISI, said in an email. "I can't see BMW, or any other carmaker currently manufacturing cars in the U.K., to commit incremental resources as long as future trading conditions remain up in the air."
A range of automakers, including Toyota Motor Corp. and PSA Group of France, have expressed disquiet with the U.K.'s planning for a departure from the EU. BMW last month said Brexit represents a "very uncomfortable scenario," with any future tariffs leading to potential changes to its value chain. 
With Britain's withdrawal from the 28-nation trading bloc fewer than 18 months away, exit talks between the two sides are deadlocked, the EU's chief negotiator, Michel Barnier, told reporters in Brussels on Thursday. 
Read here for more on Barnier's latest remarks on Brexit talks
In the case of a messy, no-deal exit, Britain would revert to so-called third-country status, resulting in tariffs on its cars and parts, as well as customs checks and other potential disruptions to its supply chain. World Trade Organization duties on autos currently average about 10 percent. Aside from Mini, Munich-based BMW builds Rolls-Royce models as well as vehicle components for the group at plants in England. Its exports from the U.K. total about 2.4 billion pounds ($3.2 billion).
A spokesman for Great Wall declined to comment, saying the company will issue a statement later. Representatives for BMW in Germany declined to comment.
The British-designed Mini, first built to tackle soaring fuel prices in the late 1950s, has evolved over the years and the cars are now produced in the U.K. and the Netherlands. After successfully reviving the brand -- selling a record 360,000 vehicles last year -- BMW is now preparing to add an electric version for the first time.

An agreement on local production of the Mini for export would boost the prospects of Great Wall, whose shares surged 14 percent in Hong Kong Wednesday following speculation of a joint venture with BMW. The shares were suspended Thursday. BMW declined 0.7 percent to 87.80 euros by 2:26 p.m. in Frankfurt trading on Thursday.
— With assistance by Ying Tian, and Yan Zhang
Before it's here, it's on the Bloomberg Terminal.
LEARN MORE