Accused Ex-HSBC Trader Says London Colleague Was in Charge
By and
Mark Johnson, Stuart Scott are accused of front-running order

Johnson was in New York when alleged illicit trades occurred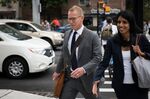 Former HSBC Holdings Plc currency trader Mark Johnson sought to distance himself from a $3.5 billion foreign-exchange transaction at the center of a U.S. fraud case, saying he left his London colleague Stuart Scott in charge of the deal.
Johnson's testimony came on his second day on the witness stand in a case where he and Scott are accused of trading ahead of a customer order in 2011. Scott remains in London where he is fighting extradition to the U.S.
"I put Stuart in charge of a deal at this stage," said Johnson, who was in HSBC's New York offices on Dec. 7, 2011, when the order was executed primarily by traders in London. "Scott was there, as opposed to being 3,000 miles away."
Johnson, the bank's former global head of foreign exchange, is also accused of tipping off bank currency traders to buy. That caused the client, Cairn Energy Plc, to overpay and resulted in an $8 million profit for the bank, prosecutors say. On Thursday, Johnson denied knowing many of the details of the transaction for which HSBC was hired to convert the proceeds of a Cairn unit sale into pounds from dollars.
"You can't see what the trader is doing, you have no idea what orders have been placed," Johnson told the jury in Brooklyn, New York, adding that HSBC's use of different computer systems in London and New York limited his knowledge of the trading that day.
In HSBC Currency Trade Charts, U.S. Offers Its Theory of a Crime
Johnson's testimony stretched for hours under friendly questioning by his lawyer. Prosecutors had hoped to begin their interrogation of the former trader late in the day, but now cross-examination won't begin until next week. As a result, jurors left court for the weekend before prosecutors could try to poke holes in his account.
Johnson testified that while his prior knowledge of the Cairn order made him "wall-crossed" -- or limited in disclosing the information about the trade -- the strictures applied to stocks but not foreign exchange, and his trading was permissible.
"It is my firm belief that wall-crossing did not affect my ability to trade currencies," Johnson said.
HSBC Jury to Weigh If Forex Trader Was Front-Running Order
Johnson used his time on the witness stand to explain a number of comments caught on recordings made by the bank at the time of the trade. Prosecutors have played the recordings as part of their claim that Johnson was trying to cheat Cairn.
In one, Johnson and Scott are heard discussing how they should refrain from pushing the price of the pound too high, which would make Cairn officials "squeal." On Thursday, Johnson said he was worried that overly aggressive buying would harm Cairn.
In other recordings and in chat messages, Johnson and Scott use phrases like "my watch is off" and "code black," which prosecutors said are code words designed to tip other traders that the deal was imminent. On the witness stand, Johnson said he used those phrases to protect Cairn's confidential information.
Johnson also testified that he was working on another deal that day -- a $5 billion deal in different market -- and he was focused on that.
"It was a very large position and I was trying to unwind it," he explained.
Scott is scheduled to appear in a London court next week to fight the U.S. extradition request.
The case is U.S. v. Johnson, 16-cr-457, U.S. District Court, Eastern District of New York (Brooklyn).
— With assistance by Suzi Ring
Quotes from this Article
Before it's here, it's on the Bloomberg Terminal.
LEARN MORE