Small Business
A Chic Alpaca Brand Preserves Peru's Weaving Heritage
Ayni trains women in traditional methods to make stylish luxury sweaters.
By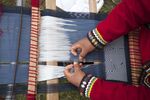 Three years ago, partners Laerke Skyum and Adriana Cachay, the founders and owners of Peruvian clothing company Ayni, were at a turning point. Their company could keep making alpaca wool sweaters and other clothing designed for fashion-conscious buyers, something it had done since 2009. But a side business consulting and producing private-label goods for other brands and running a Peruvian government certification program in traditional knitting methods was taking off.
"That was where we found our most lucrative business and where we took our know-how to a different level," says Cachay. She and Skyum wondered whether it was time to put the label to rest. "We thought, Let's do one last show, we'll see how it goes, and otherwise it would be our swan song," she says.
The fashion show, in New York in early 2015, provided an answer. The collection, more commercial than earlier designs in both style and price, was a hit. The founders' publicity efforts also generated awareness of the brand and emphasized the sustainability of alpaca wool. Unlike cashmere goats, alpaca—a domesticated camelid native to Peru that looks like a llama—are selective grazers that don't destroy the land they're on, so their wool is considered more eco-friendly.
Barneys New York in Tokyo placed an order after the show, as did online retailer Revolve. Ayni went from producing 800 pieces in 2014 to almost 2,600 in 2015. The jump confirmed that the brand should live on.
For many small businesses, such a surge in demand—especially in handmade products—can present insurmountable challenges. But Ayni's founders had spent several years learning about sourcing, weaving, and knitting the wool according to traditional methods. They had the most qualified artisans at their disposal—ones they'd identified and certified—enabling them to fill new orders.
"They basically spent eight years working in a kind of stealth mode," says Roberto Persivale, managing director of the Lima office of business accelerator Fledge, which gave Ayni $10,000 in seed capital. "When they shifted to focus on their brand, they were ready to address the greater demand."
Today, Ayni products—garments, including sweaters and capes, and home goods such as cushions and blankets—are sold in 25 stores and boutiques in the U.S., Asia, and Europe, and at three online retailers. In September the duo opened its first store in Lima. Ayni's 2016 sales totaled $490,000. Its average price for a sweater is $250; some items, such as a knit dress, cost as much as $950.
Ayni's showroom is in an historic building next to Lima's popular handcraft market. There, vendors sell the types of sweaters many people might envision when they hear "Peruvian alpaca"—soft, irregularly shaped garments with Inca motifs. Skyum says she and Cachay wanted their designs to appeal to younger consumers. They use high-quality yarn and combine minimal Danish styles—Skyum's background—with the traditional weaving of Cachay's native Peru.
Last year, 51 companies exported $42 million in alpaca garments from the country, according to data from PromPerú, the government's export promotion agency. Ayni's founders have certified 2,000 artisans since 2013 and identified 12,000 more. The weavers produce export-quality clothing for brands that include but aren't limited to Ayni.
After some early difficulty finding quality artisans, Ayni came up with the idea of developing Ayni Certify, a program that identifies and evaluates knitters and weavers across Peru, offering those whose work meets a certain standard an official seal of approval. The government pays Ayni to run the program, which is free of charge to the artisans. Gladys Roca, one of 300 artisans—most of them women—who knit, weave, and crochet for Ayni, says the company provides her and the women she directs with steady full-time work they can do from home while caring for their children. Ayni pays 20 percent to 30 percent more than other companies she's worked for, Roca says, and it pays on time.
Growth so far has been organic, according to Cachay. The co-founders are looking to bring in outside investors for capital that will support expansion into other markets and a new e-commerce business. Securing investment will be tricky, Persivale says. There aren't many funds looking to invest in the $300,000-to-$500,000 range, and those who can put up $1 million or more aren't interested in companies that sell less than $1 million a year.
Over the past year, Cachay and Skyum have approached a few impact investment funds. NESsT, a San Francisco-based social enterprise fund that focuses on emerging markets, is thinking of funding Ayni, according to Mónica Vásquez, NESsT's country director for Peru. She says the company has strong growth opportunities, and NESsT's analysis shows the potential for healthy returns.
It's not just investors who might be drawn to Ayni's commitment to preserve and expand the market for alpaca products. The certification program and the story of Peruvian alpaca wool are naturals for marketing Ayni's wares. "Today's clients, the millennials, want stories, they want traceability, to know which woman made it, with which yarn, from where," says Persivale. "This is totally embedded in Ayni's business model."
BOTTOM LINE -
Ayni's founders say demand for the brand's clothing will boost sales 400 percent in 2018.
Before it's here, it's on the Bloomberg Terminal.
LEARN MORE