Your Evening Briefing
Here are today's top stories
Bloomberg News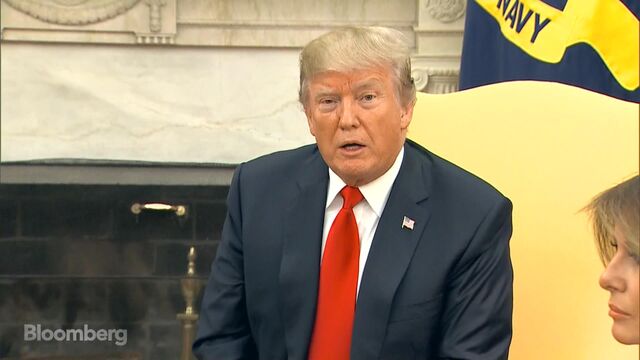 Want to receive this post in your inbox every afternoon? Sign up here.
Think you have a bad case of mid-week malaise? This investor just lost $70,000 after a failed purchase attempt in the initial coin offering world. Fox Sports estimates it will take a $20 million hit in lost advertising sales after the U.S. soccer team got knocked out of the 2018 World Cup. And Kroger goofed its sales figure, halting shares temporarily.—Katie Robertson
Nafta tensions run high. President Donald Trump and Canadian Prime Minister Justin Trudeau put up a front of cooperation at the White House on Wednesday. It belies the alarms being raised by industry groups over the changes to Nafta being pushed by the U.S. The two leaders met as negotiators from the U.S., Canada and Mexico were convening in a Washington suburb for the fourth round of talks on reworking the trade agreement.
Fed minutes show support for the next rate hike was a close call. Federal Reserve officials held a detailed debate last month over whether forces holding inflation down were persistent or temporary, with several policy makers looking for stronger evidence of price gains before supporting a third interest-rate hike this year. 
Trump threatens NBC's TV licenses. He questioned whether FCC licenses should be taken from NBC television stations after the network published a story on Wednesday saying he had sought a large increase in the U.S. nuclear arsenal. Trump denied the report in a Twitter post. Can the president really shut down NBC? Probably not.
Uber pushed the limits of the laws—now comes the reckoning. The ride-hailing company faces at least five criminal probes from the U.S. Justice Department, two more than previously reported. Bloomberg has learned that authorities are asking questions about whether the company violated price-transparency laws, and officials are separately looking into the company's role in the alleged theft of Alphabet trade secrets.
Trump officials blast the IMF over tax cuts. The IMF on Tuesday raised its outlook for growth in the U.S. over this year and next, but left out any impact from proposed tax cuts. The Treasury disputed the forecast, with an official telling reporters that the reforms are a work in progress. Meanwhile, JPMorgan CEO Jamie Dimon just wants Trump to "get it done" on the tax overhaul.
Suburban offices are cool again. Companies don't have to head downtown to woo young talent anymore. For older millennials starting families and taking out mortgages, a job in the suburbs has its own appeal. Many employers are choosing sites near public transit and walkable suburban main streets, while landlords are upgrading office parks with amenities to mimic urban life. 
There's a war being waged over the American wedding. Even as marriage rates fall, a frenzy is underway to claim a foothold in the existing space. Bridal boutiques are facing an existential threat from big retailers and startups hungry for a piece of the lucrative industry.
Before it's here, it's on the Bloomberg Terminal.
LEARN MORE