Brandao Leaves, Igniting CEO Race at Brazil's Bradesco
By and
Brandao, who is 91 years old, will be replaced by current CEO

Bank to choose new chief by March from current executives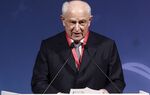 Lazaro de Mello Brandao, who at 91 is one of the world's oldest serving bank chairmen, said he'll step down after more than 25 years in that role at Banco Bradesco SA, triggering a succession race at Brazil's second-largest bank by market value.
Brandao will be replaced by Luiz Carlos Trabuco Cappi, the current chief executive officer who will hold both positions until March, when the lender will elect a new CEO, according to a regulatory filing Tuesday.
The executive, who started as a 16-year-old clerk in 1943, eventually became one of just two chairmen Bradesco has ever had and one of four CEOs, a title he held from 1981 to 1999. He ranks among the world's oldest banking leaders, according to data compiled by Bloomberg.
"There's a need to renew the bank's board to ensure its continuity," Brandao, who holds the No. 1 employee badge at Osasco-based Bradesco, told journalists Wednesday, adding that it was his decision to resign. He'll remain in charge of some of Bradesco's holding companies.
As chairman, Brandao fostered a management culture that favored executives promoted from the company's existing ranks rather than looking outside for new talent -- a course Bradesco is set to keep when choosing Trabuco's replacement. The bank will pick from among its seven highest ranking executives, people with knowledge of the matter said, asking not to be identified because the discussions are private.
Talent Pool
"The new CEO choice will respect Bradesco's own pool of talent," Trabuco said at the media event.
Bradesco shares fell 1.2 percent to 36.63 reais at 3:02 p.m. in Sao Paulo, and are up almost 39 percent year-to-date.
Last year, Bradesco said it had changed its bylaws to increase the maximum age for CEOs to 67 from 65, giving Trabuco until the beginning of this year to name his successor. At the time, Trabuco was involved in one of Brazil's many corruption probes, the so-called Zelotes tax-fraud case. He has since been cleared of all charges.
Brandao said he has no regrets from his 75-year stint at the company, and he'll keep the same desk he's been working at over the past couple of years.
"When I told my family I was leaving, their reaction was: It's about time," Brandao said.
Here is a list of the possible candidates to take over as CEO:
Mauricio Machado de Minas: The 58-year-old is responsible for the bank's IT department. He was also behind Bradesco's digital-only bank spinoff, Next. He joined the bank in 2009, having worked previously at an IT company called CPM Braxis SA.
Alexandre da Silva Gluher: Gluher, 57, is Bradesco's chief risk officer. Alongside Domingos Figueiredo Abreu, he was on the front line of Bradesco's biggest acquisition, the $5.2 billion purchase of HSBC Holdings Plc's retail unit in Brazil. He's been at the bank since 1976.
Domingos Figueiredo Abreu: The 58-year-old is responsible for the bank's treasury and lending departments. He's currently under investigation in the Zelotes probe. The bank has denied all charges through regulatory filings. He's been at Bradesco since 1981.
Josué Augusto Pancini: Pancini, 57, is responsible for Bradesco's branch network and its high income segment. He's been at Bradesco since 1975.
Marcelo de Araujo Noronha: Noronha is responsible for Bradesco's corporate and investment banking, Bradesco BBI, and its card operation. The 52-year-old joined the bank in 2003.
Octavio de Lazari: Lazari, 54, is the most recent addition to Bradesco's higher management team, being appointed last May to lead the lender's insurance unit, responsible for a third of the bank's results. He's been at the bank since 1978.
André Rodrigues Cano: The 59-year-old executive is responsible for Bradesco's human resources department. He's also one of the most recent additions to higher management, having been promoted in December. He's been at Bradesco since 1977.
Before it's here, it's on the Bloomberg Terminal.
LEARN MORE