VW. BP. And Oi? One of These Mega Fines Is Not Like the Others
By
Oi fined over and over again for not fixing phones booths

Odebrecht, JBS penalties for corruption equal those against Oi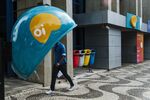 When it comes to companies saddled with multibillion-dollar fines, Oi SA sits on a very short list. But the Brazil telecom giant stands out in the notorious club that includes Volkswagen AG, Odebrecht SA and BP Plc.
The German carmaker and Odebrecht, a Brazilian builder, each got hit with mega fines after years-long schemes that swindled governments and consumers. Odebrecht's misdeeds even helped tip Latin America's largest nation into a two-year depression that reduced gross domestic product by almost 10 percent.
And Oi's sin? It didn't fix phone booths fast enough.
Brazil's largest land-line operator, which filed for bankruptcy protection more than a year ago, racked up 10 billion reais ($3.2 billion) in penalties under a 1997 law that even the nation's telecom regulator says became nonsensical in an age when everyone and their mothers tote around smartphones.

It wasn't all just about phone booths. There were infractions in there for poor-quality service (which people care about) and others for submitting filings in the wrong format (which people really don't).  Even so, creditors, Oi and the government agree it was too heavy of a burden for the troubled company.
While the rules that led to the outsized fines in the first place have been fixed, Telecommunications Minister Andre Borges said last week the outstanding amount due -- which Anatel claims is as much as 20 billion reais when factoring in past taxes and other fees -- is like a "death sentence" for the phone company. 
Brazilian law doesn't allow Anatel, the telecommunications regulator, to negotiate down the debt in the $19 billion bankruptcy reorganization. And because of political gridlock in Brasilia -- thanks again, Odebrecht and others involved in Brazil's biggest-ever corruption scandal -- that's not likely to change any time soon.
"We've lost common sense," Oi Chief Executive Officer Marco Schroeder said at a recent event in Sao Paulo.
Among some of the more outrageous fines that Oi says it's been slapped with over the years:
A 1.32 million-real fine for submitting a regulatory filing to Anatel in non-editable PDF format when it should have been editable.
A 1.92 million-real penalty for not installing individual fixed phones for three indigenous tribes with about 600 people. Tribal chiefs and the government entity representing the Indians said public phones installed there were enough.
A 1.2 million-real fine for not providing documentation for a system that the company had already stopped using.
More than 51 million reais for not installing enough fixed phones or public phone booths in 39 municipalities in Maranhao state. Oi appealed and Anatel increased the fine to 54.9 million. The company appealed again and the fine was fixed at 52.6 million reais.
Anatel confirmed the total that Oi owes it. "The list of fines questioned by Oi were applied after due process, and Oi was granted the right to fully defend itself," the agency said in an e-mailed response to questions. "Therefore, there are no signs of impropriety in the fines applied by Anatel."
Here's where Oi's $3.2 billion in fines rank on the list of some of the biggest penalties handed out in recent years:
As Oi tries to reach a deal with creditors so that it can call a general assembly and exit bankruptcy protection, the fines remain a sticking point. The company is due to present its new bankruptcy recovery plan on Wednesday in order to hold its general creditors meeting on Oct. 23, as scheduled.
— With assistance by R.T. Watson, Ney Hayashi Cruz, and Craig Trudell
Before it's here, it's on the Bloomberg Terminal.
LEARN MORE