Trump Meeting With Taylor This Week in Search for Next Fed Chair
By and
Stanford economist is known for theories on rule-based policy

Taylor wants Fed to tell public more about policy strategy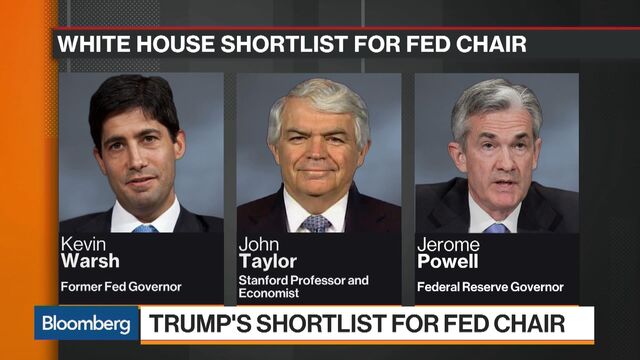 President Donald Trump is meeting this week with Stanford University economist John Taylor, who is on the shortlist of people under consideration to be the next chairman of the Federal Reserve, three people familiar with the matter said.
The people were unsure when the meeting was to take place.
Taylor is a renowned monetary economist whose widely cited rule on setting policy is used as a reference by the Fed and other central banks. He is also a frequent congressional witness at hearings where Republicans have pushed Chair Janet Yellen to move toward a more rules-based policy. Yellen has resisted legislative attempts to curb or audit the Fed's discretion on setting interest rates, arguing it needs flexibility to respond to shocks to the economy.
Read More About the Qualifications Trump's Team Is Looking For
Fed chair succession has become one of the most anticipated White House decisions in financial markets. Yellen's term ends in February, and Vice Chairman Stanley Fischer has announced his retirement and is serving his last full week in office.
Yellen's management of monetary policy has underwritten the third-longest expansion in U.S. history. Unemployment last month fell to 4.2 percent, the lowest rate since 2001. Trump says he respects her and hasn't ruled out her renomination, although White House advisers are pushing for a change and are focused on a leader with a stronger intent to ease crisis-era financial regulations.
Cohn, Warsh
The president is also said to be considering National Economic Council Director Gary Cohn, former Fed Governor Kevin Warsh and current Governor Jerome Powell. Trump has said he'll make a decision within weeks.
Taylor checks many of the boxes White House officials are looking for. He served on the Council of Economic Advisers under three presidents, and was an adviser on the presidential campaigns of George W. Bush and John McCain. He was Undersecretary of the Treasury for International Affairs from 2001 to 2005.
Taylor, 70, testified before a House Financial Services subcommittee in March.
The Fed "should be required to adopt and explain its monetary strategy, and then compare that strategy with monetary policy rules that are out there in a transparent way," Taylor told lawmakers.
Before it's here, it's on the Bloomberg Terminal.
LEARN MORE