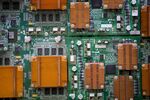 China Unicom Hong Kong Ltd.'s landmark mixed-ownership reform has had one unintended consequence: It's transformed a U.S.-sanctioned communications equipment maker into an $18 billion market darling.
Shenzhen-based ZTE Corp. has been on fire since China's second-largest telecom operator welcomed strategic investors in August and pledged to invest billions in new 5G wireless technology. That's the same ZTE that in March paid almost $900 million in fines for bypassing U.S. sanctions on Iran. Meanwhile, Unicom's own shares have languished.

Small-cap telecom vendors in China have also done well. Mobi Development Co., which sells wireless communication antennas and base-station radio frequency subsystems, has gained 48 percent since the transaction was announced, while Comba Telecom Systems Holdings Ltd. is up 27 percent.
Investors are betting that equipment manufacturers will benefit from China's move into 5G mobile technology. As part of the $11.7 billion stock sale, Unicom said it planned to spend a substantial chunk of money on 5G infrastructure -- 8 billion yuan ($1.2 billion) in 2018 and 19 billion yuan in 2019. The cost of building a 5G station is about 20 percent higher than for 4G, according to Jefferies Hong Kong Ltd. analyst Edison Lee, allowing suppliers not only to increase their revenue, but also to improve margins.
So far, markets are rallying on hope. China doesn't expect to actually commercialize 5G technology until 2020, and the nation's three largest operators are pretty much done with rolling out 4G. As a result, capital expenditure is expected to fall this year.

Truth is, liquidity-fueled Hong Kong is always on the lookout for the next big theme. Real estate firms and automakers have been the market darlings this year and now they're looking expensive. On a market-cap-weighted basis, Chinese developers are trading at 15 times forward earnings versus their U.S. peers at 11.7 times. Car manufacturers listed in Hong Kong are trading at 22 times.

After its fast and furious rally, ZTE is no longer a value stock -- it's twice as expensive as its global peers.
When traders start to sway more toward the conceptual than the concrete, and with the city's own benchmark up a more moderate 29 percent this year, it could be time to apply the brakes.
Before it's here, it's on the Bloomberg Terminal.
LEARN MORE