Slovak Government Approves 2018 Budget With Lowest-Ever Deficit
By
Deficit set to narrow to 0.8% of GDP in 2018, 0.1% in 2019

Government delays balancing budget on social-spending package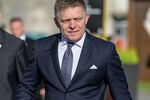 The Slovak government approved a 2018 budget plan that seeks to boost social spending while squeezing the fiscal shortfall to a record low.
The budget targets a gap of 0.8 percent of gross domestic product before narrowing to 0.1 percent in 2019, the government said in Bratislava on Wednesday. Even as Slovakia targets a record-low deficit, it's a shift from April's pledge to trim the shortfall to 0.5 percent and eliminate it altogether in 2019. The latter goal has now been pushed back by a year.
Ruling parties agreed to add 250 million euros ($296 million) of social spending, a decision that drew criticism from the country's budget watchdog. The measure includes boosting the minimum monthly wage to 480 euros from 435 euros now, and higher subsidies for people to relocate for jobs. The budget, which will be discussed in parliament next month, is still in line with the European Union's fiscal rules, the Finance Ministry said.
Prime Minister Robert Fico, who advocates greater state control over the economy and higher taxes on the rich, is seeking to balance fiscal discipline with support for poorer voters who complain they're not benefiting from the eastern European nation's economic power. GDP is projected to jump 4.2 percent next year and 4.4 percent in 2019, buoyed by production at new facilities built by Jaguar Land Rover Plc and Volkswagen AG.
Before it's here, it's on the Bloomberg Terminal.
LEARN MORE