NCAA Admits College Basketball Needs 'Substantive Changes'
By
New commission will advise on enforcement, athlete protection

Former Secretary of State Condoleeza Rice will lead effort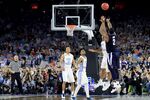 In his first major comment since a bribery scandal shook college basketball's foundation, National Collegiate Athletic Association President Mark Emmert said Wednesday that the organization needs to make "substantive changes to the way we operate."
The NCAA will create a commission on college basketball to advise the governing body how to better enforce its rules and protect its athletes. The task force, led by former Secretary of State Condoleeza Rice, includes experts in college sports, education, government and business, as well as former NBA players David Robinson and Grant Hill.
"While I believe the vast majority of coaches follow the rules, the culture of silence in college basketball enables bad actors, and we need them out of the game," Emmert said in a statement. "We must take decisive action. This is not a time for half-measures or incremental change."
Two weeks ago, federal prosecutors announced the results of a three-year investigation into bribery surrounding college basketball programs, high school athletes, advisers and Adidas AG. In all, seven schools were mentioned and 10 people were charged.
Since then, Nike Inc.'s youth basketball division was subpoenaed as part of the probe, and the University of Louisville, one of the schools in the complaints, has suspended its athletic director and taken steps to fire Hall of Fame basketball coach Rick Pitino.
The allegations -- that sneaker companies and agents fund illicit payments to players and to coaches -- are an open secret in college basketball and college football circles. The Department of Justice has set up a hotline for tips, and should it choose to continue investigating, many of the NCAA's most competitive schools could become targets. The Los Angeles Times reported this week that more coaches and others involved in youth basketball are expected to be charged later this month.
The new NCAA commission will have three main goals, Emmert said. The first is to examine the relationship between schools, athletes and outside entities including apparel companies and agents. The second will look at the NCAA's relationship with the National Basketball Association, which prohibits players from joining the league directly out of high school, often creating a situation where college programs are a short-term holding tank for future professionals. Last, the NCAA's national office in Indianapolis will work with its member schools to evaluate its own enforcement and transparency.
The NCAA has not announced any punishment for the seven schools mentioned in the complaints.
Before it's here, it's on the Bloomberg Terminal.
LEARN MORE