Liberia Says Election Results May Be Published Starting Thursday
By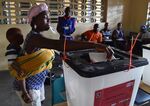 Liberia's election authority said it will release presidential and parliamentary poll results from Thursday as the body continues to validate ballot tallies after Tuesday's vote.
Liberians chose a president to replace Nobel Peace Price laureate Ellen Johnson Sirleaf from among 20 candidates in a vote that regional observers said were conducted mostly peacefully.
"Voting and counting have ended and result sheets posted at polling places," National Elections Commission Chairman Jerome Korkoya told reporters Wednesday in the capital, Monrovia. "We are hoping by tomorrow we can start" release provisional results, he said.
Read More: Soccer Star, Ex-Warlord Among Hopefuls for Liberia President
The election in the West African nation, founded for freed American slaves almost 200 years ago, could see Liberia transfer power from one elected president to another for the first time in more than half a century. The vote will go to a run-off in November if no candidate wins 50 percent of the support in the first round. As many as 986 contestants vied for 73 seats in the House of Representatives.
Before it's here, it's on the Bloomberg Terminal.
LEARN MORE