Japan's Steel Scandal Deepens as More Faked Data Emerges
By , , and
Steelmaker's market value tumbles by $1.6 billion since Friday

Co. confirms iron powder, target material data falsification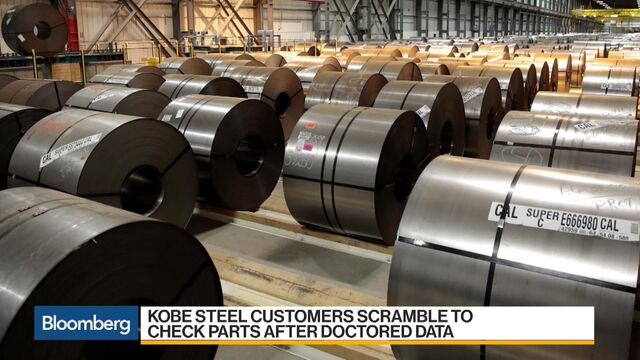 The scandal engulfing Kobe Steel Ltd. threatened to deepen further as the company warned it may reveal more cases of falsified data after admitting to faking information on products that found their way into cars, trains, aircraft and electronics.
Japan's third-largest steel producer said on Sunday that it provided false data about the strength and durability of some aluminum and copper, and has since revealed information was also faked about iron ore powder and target materials that are used in DVDs and LCD screens. There's a likelihood additional cases will be discovered as it continues a global investigation, Yoshihiko Katsukawa, managing executive officer, told reporters on Wednesday.

As the affair reverberates across markets, it's a further blow to the integrity of Japanese manufacturers after a string of industrial scandals that's destroyed shareholder value, enraged consumers and incurred the wrath of regulators. Kobe Steel customers from Toyota Motor Corp. to Subaru Corp. are scrambling to determine if they used the suspect materials and whether safety has been compromised.
If you look at previous instances with "companies initially saying it is a single, one-off, it has always expanded to more and more parts of the business," said Alexander Robert Medd, managing director at Bucephalus Research Partnership Ltd. "One usually finds out that it is reasonably systematic."
Shares of Kobe Steel plunged 18 percent in Tokyo, with $1.6 billion wiped off the company's market value since the revelations were made.
Target material had its data falsified, affecting 70 companies, the firm said in a statement on Wednesday. It also said that iron ore powder at one of its facilities had data manipulated, affecting one company. The company didn't see a problem with the safety of the product, according to the statement.
The Yomiuri newspaper earlier reported iron ore powder was compromised, while a Nikkei newspaper report said the institute faked testing data on semiconductor material.
For a Gadfly article on the falsification scandal, click here
As the scandal mushrooms, Japan's government has weighed in. Deputy Chief Cabinet Secretary Kotaro Nogami said the faked data undermined the basis of fair trade, calling it "inappropriate". Kobe Steel Chief Executive Officer Hiroya Kawasaki didn't respond to requests for comment.
One estimate from JPMorgan Securities Japan Co. put the potential cost of replacing the copper and aluminum parts at about 15 billion yen ($133 million), but the damage to the company that's more than a century old -- both in reputational harm or possible legal challenges -- may be much greater.
For a Quicktake Q&A on the Kobe Steel scandal, click here
The market impact has already been savage as investors take fright at the possible consequences. While at Friday's close, Kobe Steel had a market value of 498 billion yen ($4.4 billion), by Tuesday that was down to 389 billion yen, and it fell further to about 319 billion yen on Wednesday.
Investors have also rushed to unload Kobe Steel's bonds, causing the extra yield demanded to hold the securities over Japanese government notes to jump. The premium on the company's securities maturing in November 2021 rose 148 basis points to about 202.5 Tuesday, the highest since the firm issued them in late 2011, according to Bloomberg-compiled data. The cost to insure Kobe Steel's notes against non-payment has surged.
Iron ore powder is mainly used in making automobile components, according to Kobe Steel. Powders can be hardened to produce sintered parts, which are used in everything from the engine to the steering mechanism as well as the brakes and transmission, according to JFE Steel Corp., another Japanese producer.
— With assistance by Takashi Nakamichi
Before it's here, it's on the Bloomberg Terminal.
LEARN MORE