House GOP Leaders to Host Meeting on State and Local Tax Deduction
By and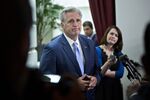 Republican lawmakers from high-tax states are set to meet with House Majority Leader Kevin McCarthy and Ways and Means Chairman Kevin Brady Thursday to discuss GOP proposals to end the state and local tax deduction, according to New Jersey Republican Tom MacArthur.
MacArthur burnished his deal-making powers earlier this year when he came up with a compromise that helped the House pass an Obamacare repeal bill.
"This is the crucial time when the bill is being drafted," the congressman told reporters Wednesday. It would take 23 Republicans to band together to block a tax bill this fall, and MacArthur estimated there are probably that many concerned with the proposal to eliminate the state and local deduction. 
New York Republican Peter King said he is open to phasing out the deduction with a cap that is "sufficiently high enough," such as for households earning less than $400,000 per year. MacArthur said he could accept that as a compromise as well and that Republicans should be able to make up the lost revenue elsewhere in the tax code.
Asked if leaders would accept a compromise on the deduction, King said, "If they need our votes, they will."
Before it's here, it's on the Bloomberg Terminal.
LEARN MORE