Hong Kong Developers Fall as Lam's Speech Skirts Land Issue
By
New World down 0.7% after earlier rising as much as 6.2%

In maiden policy speech, Lam says details to be unveiled 2018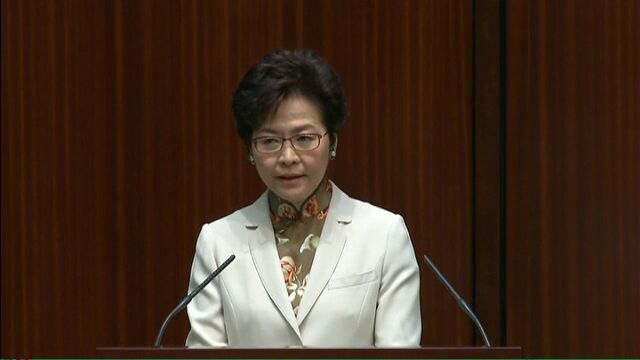 Hong Kong developer stocks reversed earlier gains after Chief Executive Carrie Lam's maiden policy speech didn't spell out proposals to boost land supply or detail a highly anticipated plan to convert farm land into homes in the world's least-affordable housing market.
Meeting the public's housing needs remains the "top priority" for Hong Kong, Lam said in her first speech after taking the city's top job in July. She said details of a plan to introduce "starter homes" for first-time home buyers will be unveiled in mid-2018.
"It now appears that the land supply for "Starter Homes" will have to come from sites already owned by private developers or to be bought from the government," Lam said Wednesday.

Shares of New World Development Co., which surged as much as 6.2 percent before Lam's speech, fell 1.2 percent in Hong Kong. Sun Hung Kai Properties Ltd. fell 0.9 percent after earlier rising as much as 1.5 percent, while the Hang Seng Property Index also declined 0.9 percent.
"The market expected Carrie Lam to say 'let's have more cooperation with developers to create more land supply,'" said Raymond Cheng, director of Hong Kong and China property research at CIMB Securities. "Her not mentioning the agricultural land scheme disappointed and that is why shares are down."
Investors had expected Lam to speed the conversion of farm land for residential developments. Lam vowed in her campaign to tackle the high cost of housing, seen as one of the major sources of unrest in the city of 7.1 million. A University of Hong Kong poll released Oct. 10 found 94 percent of people identified housing as the most important issue for the chief executive to address.
Starter Homes
Unlocking idle agricultural land for residential use would be a boon for property developers, who have found the system of approvals unsatisfactory. "It establishes a way to monetize this land bank in a more predictable way, which would be a positive thing for the developers," said David Ng, a property analyst at Macquarie Group.
Lam said the government will launch a pilot scheme of 1,000 starter homes built on private land, reserved for mid-income, first-time buyers by the end of next year, with details to be revealed in mid-2018. To qualify for the program, buyers' monthly income can't exceed HK$34,000 ($4,357) for individuals and HK$68,000 for households.
"The government will strive to build a housing ladder to rekindle the hopes of families in different income brackets to become home-owners," she said.
The property proposal was among several in Lam's policy address that sought to ease social tensions. Lam was elected in March pledging to bring unity to Hong Kong and tackle burning issues from inequality to innovation.
Other initiatives Lam proposed in the policy address included:
Tax relief for small and medium-sized enterprises: Lower tax rate for first HK$2 million of profit to 8.25%, and standard tax rate at 16.5% for profits exceeding that amount.
Demolish and redevelop three government buildings next to the Hong Kong Convention and Exhibition Centre in Wan Chai for more convention and exhibition facilities.
Invest HK$700 million for Smart City development
Increase paternity leave to five days from three days; to study enhancement of maternity leave, including extending the duration of the 10-week statutory maternity leave.
— With assistance by Jeanny Yu, Dominic Lau, Jasmine Wang, and Fion Li
Before it's here, it's on the Bloomberg Terminal.
LEARN MORE