FX Markets Are Stuck in Low-Volatility Quicksand With No Escape
By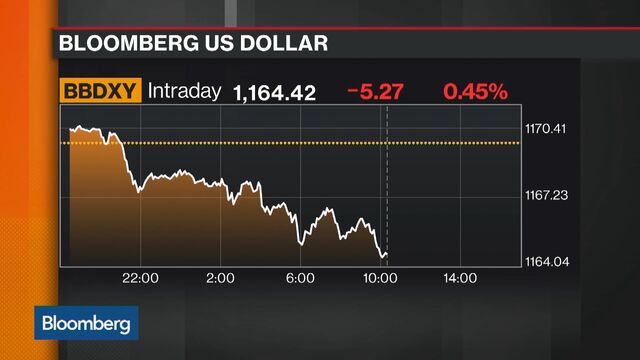 Currency markets are trapped by low volatility and only a fundamental break of historic proportions can shake them free.
Foreign exchange trading has become significantly less responsive to shocks, and when currencies do react it typically isn't long before they go calm again, according to a study by Bank of America Corp.'s Alice Leng. The New York-based analyst has a model for assessing the "stickiness" of FX volatility, and it suggested that it'll take six times as much effort to move FX volatility higher than it did over the previous 15 years, Leng wrote in a note on Monday.
"Most people think volatility is mean-reverting, i.e., low volatility will lead to high volatility hereafter, but our approach shows that this is not the case," she wrote. "It's very unlikely that a onetime idiosyncratic event shock will pump volatility to a new regime."

This year, currencies have proven numb to a plethora of significant events and geopolitical tensions. Even with tensions surrounding North Korea escalating and Japanese national elections looming, the JPMorgan FX volatility index is 12 percent below its five-year average.
The reason, according to Leng, is that volatility tends to "cluster." In other words, high volatility begets further volatility, while low volatility begets lower volatility. When catalysts form, the negative ones tend to have the greatest impact. FX volatility is currently twice as responsive to bad news than what's typical, data compiled by Bank of America show.
So expect some big shocks when negative headlines hit, Leng said. But then get ready for those shocks to be short-lived and calm to return.
Before it's here, it's on the Bloomberg Terminal.
LEARN MORE