Five Things You Need to Know to Start Your Day
Get caught up on what's moving markets in Asia.
By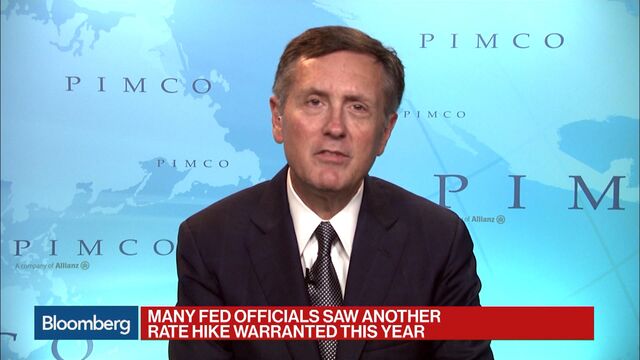 Want to receive this post in your inbox every morning? Sign up here.
Fed inflation debate rages, loads of data due out, and U.S. bank earnings coming. Here are some of the things people in markets are talking about.
December?
While inflation remains cool, the inflation debate is heating up inside the Federal Reserve. Minutes from the central bank's September meeting, released on Wednesday afternoon, showed that many participants were concerned that sluggish readings could prove persistent rather than transitory – which would warrant a more cautious approach to policy normalization. Officials didn't sound any alarms on valuations in financial markets. Odds of an interest rate hike by year-end lingered above three-in-four in the wake of the release.
Data Dump
It's a relatively busy day for economic data in the Asia Pacific region, albeit of the lower-tier variety. The highest-profile release of the day, India's consumer price index (expected to quicken to an annual rate of 3.5 percent in September), is due out at 9:00 p.m. Tokyo time, well after the end of the trading day. Producer prices in Japan are forecast to accelerate a tick in September to an annual rate of 2 percent; data on bank lending will be released concurrently at 8:50 a.m. Tokyo time. Later in the day, the nation's tertiary industry index is expeched to inch 0.1 percent higher month-on-month. Over in Singapore, economists are calling for retail sales to fall 1.4 percent on a monthly basis in August on the heels of July's 3 percent advance. Home loans in Australia are projected to rise 0.5 percent month-on-month in August. Also due out: New Zealand consumer confidence for October and August's reading of industrial production in Malaysia. Earlier in the day, figures from the Real Estate Institute of New Zealand showed home sales declined more than 26 percent year-on-year in September.
Bank Earnings Coming
The S&P 500 Index, Dow Jones Industrial Average, and Nasdaq Composite Index closed at record highs on Wednesday, with tech stocks pacing the gains. U.S. 10-year Treasury yields and the Bloomberg Dollar Spot Index retreated. West Texas Intermediate futures pared their advance late in the U.S. trading day after a private industry report showed U.S. crude inventories swelled. Investors are gearing up for the U.S. bank earnings season, which kicks off on Thursday. For those who want to wager the good times are over for financials, Goldman Sachs and JPMorgan are now offering derivatives that allow investors to bet against bank bonds that could be wiped out by regulators in the event of acute distress.
Tru Crew
U.S. President Donald Trump called Canadian Prime Minister Justin Trudeau "a great friend" after the two met on Wednesday, while suggesting it's possible renegotiations of the North American Free Trade Agreement could end with no deal. Trudeau's predecessor, former Prime Minister Stephen Harper, warned that the possibility of Trump tearing up the trade agreement can't be ruled out. American business leaders have cautioned that some of the U.S.'s hard-line stances on Nafta – including on American-made content in automobiles – put the future of the trade pact in jeopardy. Auto executives have called changes to the rules of origin provisions to be a "lose-lose" situation for the countries. Negotiators from Canada, Mexico, and the U.S. are expected to discuss energy issues on Friday in Washington.
Futures Mixed
Nikkei 225 futures are moving higher in the pre-market a day after the benchmark jumped to levels not seen since 1996. Investors are optimistic that Japanese companies will boost profit guidance during the upcoming earnings season and that Shinzo Abe will comfortably prevail in this month's election, shrugging off the Kobe Steel scandal. ASX/S&P 200 futures, meanwhile, are trading a modicum to the downside.
What we've been reading
This is what caught our eye over the last 24 hours.
Before it's here, it's on the Bloomberg Terminal.
LEARN MORE