Fink Says BlackRock Does Better Than Hedge Funds With Corporate Governance
By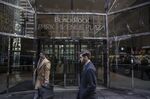 BlackRock Inc.'s Larry Fink responded to critics of passive investors, saying his firm does a better job than hedge funds in providing corporate governance.
"I think we do as credible a job as anybody, better than any hedge fund, better than any firm, we are very committed to corporate stewardship," Fink told CNBC Wednesday. The BlackRock chief executive officer was responding to comments from activist hedge fund manager Paul Singer, who has argued that passive investors lack incentives to push companies to change for the better.

"In active management if you don't like a company you need to sell it," Fink said. By contrast, as a passive investor, "the only power I have is the power of the vote, so we take a huge responsibility in trying to navigate this."
Fink said BlackRock, the world's largest asset manager, has a team of about 40 people who evaluate performance and governance of portfolio businesses. That might seem small given the scale of the firm's investments, but "we do have technology that is assisting in the evalution of companies, their metrics and performance," he said.
"We're active, we're not activists, we are not going to discuss openly and publicly our opinions, that's the role of activists," Fink said.
Before it's here, it's on the Bloomberg Terminal.
LEARN MORE