Brazil Denies Report About Temer's Heart Health
By
President is in good health, says statement from press office

Globo TV reported Temer would undergo coronary catheterization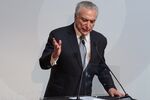 Brazil's presidential palace denied on Wednesday a report that President Michel Temer would undergo a heart procedure in the next few days, saying he is in "good health."
Globo TV reported late on Tuesday, without citing sources, that Temer, 77, had been diagnosed with a partial coronary obstruction but decided to delay catheterization until lawmakers vote on whether to allow a corruption trial against him. The lower house is widely expected to block the allegations in a vote that will take place as soon as this month.
"There's no surgery or catheterization prescribed for the president," Temer's press office said in a statement.
Recent routine exams showed a slight obstruction in one of Temer's coronary vessels, and a doctor consequently prescribed aspirin and a low-fat diet, according to an official at the presidency. No recommendation for catheterization or any other heart procedure was made, the official said.
Temer took office last year after the impeachment of his predecessor, Dilma Rousseff. Financial markets have rallied since then on hopes he would implement structural reforms needed to fix public finances and restore growth.
Allegations that he was involved in a corruption scandal have prompted investors to consider who would replace Temer if he, too, was impeached. Currently, lower house speaker Rodrigo Maia is the next in line to succeed the president.
Before it's here, it's on the Bloomberg Terminal.
LEARN MORE