Beyonce Has Fertitta's Nod to Buy Rockets Stake -- If She Wants
By
Billionaire owner doesn't expect to sell other minority shares

Fertitta paid a record $2.2 billion for Rockets franchise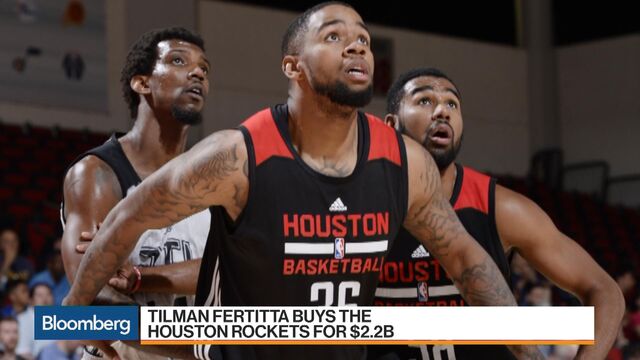 Newly minted Houston Rockets owner Tilman Fertitta said he'd rather not take on limited partners, but he would be willing to make an exception for pop superstar Beyonce.
"I prefer to own 100 percent," Fertitta told the Bloomberg Business of Sports podcast that airs Oct. 13. "If somebody as special as a Beyonce or somebody like that wanted to come in for a tiny percentage because they wanted to be an ambassador for the team because this is their hometown -- would I sit down and discuss it with them? Yeah, I would sit down and discuss it with them. It's a compliment to have somebody like Beyonce to want to be a part of your team."
Investors would help to defray the cost of the record $2.2 billion purchase of the National Basketball Association franchise, Fertitta said. Beyonce, a Houston native, mulled an investment in the team when it was put up for sale by Les Alexander, Bloomberg News reported in August.
The entertainer's publicist, Yvette Noel-Schure, didn't immediately respond to an email seeking comment. Beyonce occasionally performs wearing a Rockets jersey.
It's common for celebrities to make small investments in professional sports teams. Beyonce's husband, Jay-Z, for instance, was born in Brooklyn and once held a less than 1 percent stake in basketball's Nets.
Fertitta said he owns 100 percent of his other holdings, which include Landry's Inc., one of the world's largest restaurant and hospitality chains, as well as Golden Nugget Inc.
Principal owners often sell what are called limited partnerships to recoup some of their outlay without surrendering control.
— With assistance by Lucas Shaw
Before it's here, it's on the Bloomberg Terminal.
LEARN MORE