Balance of Power: A Full-Blooded Separatist Retreat in Catalonia
By and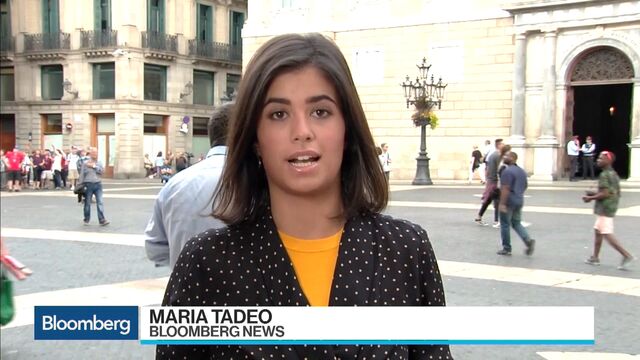 Don't let the cheers in the Catalan Parliament fool you. There's been a full-blooded retreat from the separatists.
After rowdy demonstrations, a covert referendum (which drew a violent response from Spanish police) and vows to set up a new republic, Catalan President Carles Puigdemont blinked.
Many lawmakers gathered for a special session of the regional legislature were hoping to hear a declaration of independence. Instead, he put the process on hold to make another appeal for talks with the Spanish government. No deadline. No leverage. And Prime Minister Mariano Rajoy's response was powerful: he started the process that could see Puigdemont's administration stripped of its powers.  
Already last night cracks were opening up in the separatist coalition, suggesting a regional election may be necessary next year.
Perhaps Puigdemont had no real choice. The EU made it clear an independent Catalonia would be isolated. The region's biggest companies were pulling out. And elite Spanish police officers were waiting to arrest him.
So Rajoy will be greeted as a winner when he addresses the national parliament later today. But with such deep rifts between Spain's two power centers, the costs of his attritional campaign have been great.

Sign up to receive the Balance of Power newsletter in your inbox, and follow Bloomberg Politics on Twitter and Facebook for more.
Global Headlines
Tax revamp hurdles | A caustic feud with Tennessee's Bob Corker is just one of the obstacles President Donald Trump faces in uniting Republican senators around his goal of revising the U.S. tax code. Others include ideological demands from Rand Paul and procedural concerns from John McCain. Trump's back to touting his tax plan today with a speech in Pennsylvania.
Kim Jong Un's techno soldiers | North Korea is making strides in infiltrating computer systems three years after its hackers allegedly pilfered documents from Sony in retaliation for The Interview, a comedy that ends with Kim's death in an explosion. In a case that just came to light, its cyber sleuths a year ago stole U.S.-South Korean military plans, which included a highly classified "decapitation strike" against the North Korean leader.
China's most-watched official | The fate of one official in a key Communist Party leadership reshuffle this month will be scrutinized for signals about President Xi Jinping's own plans to keep power, Ting Shi reports. Retaining anti-graft chief Wang Qishan, 69, past the established retirement age may help Xi, 64, set a precedent to stay on after his second term ends in 2022.
Putin's endgame? | Spiced with allegations of coded hand signals, clandestine gifts and illicit payoffs, Bloomberg looks at how the corruption trial of a former economy minister has lifted the veil on the intrigue simmering in the Kremlin, as President Vladimir Putin heads into what the constitution says will be his last six-year term. So far, he's keeping insiders guessing about who he might be considering as a successor.
Saudi's top-down revolution | Crown Prince Mohammed Bin Salman is seeking to reintroduce Saudi Arabia to the world — opening its economy to global business and its society to practices once deemed un-Islamic. But to get such radical change, clerics and other dissenters are being co-opted, cowed, or jailed. Vivian Nereim and Glen Carey examine the kingdom's shrinking space for criticism.
And finally...  Accusations of sexual misconduct against Hollywood mogul Harvey Weinstein have put Democrats in a tricky spot heading into next year's congressional midterms. Weinstein has furnished Democrats with more than $2.3 million since 2000, Business Insider reports, a fact Republicans will surely use as campaign fodder. Democrats are distancing themselves, with Hillary Clinton saying she was "shocked and appalled" over the allegations, former President Barack Obama expressing disgust, and Senate Democratic Leader Chuck Schumer pledging to give Weinstein's money to organizations that help sexual assault survivors.

Before it's here, it's on the Bloomberg Terminal.
LEARN MORE