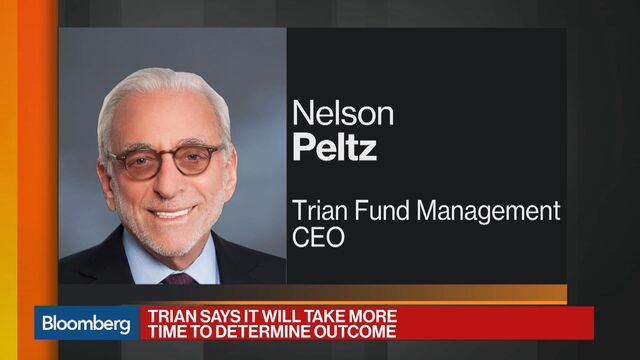 Once upon a time, they were known as corporate raiders. They used junk bonds to buy stakes in companies whose entrenched management they hoped to oust and whose undervalued stock they hoped to boost. Today's raiders, mostly hedge funds, prefer to be called activist investors. And while they talk of changes in "strategic direction" and increases in "shareholder value," the goal is much the same: to profit from the disruption, while claiming it's all for the greater good. But do other shareholders, public companies and the broader economy really benefit? Or are activists themselves on the defensive, accused of encouraging short-termism, in which managers aim for better quarterly earnings at the expense of investing for the future? One test came on Oct. 10, when Nelson Peltz asked shareholders of Procter & Gamble Co., the largest company to face off against an activist, to give him a board seat. P&G claimed victory but Peltz is seeking independent certification of the results, which were close.
1. Who are today's prominent activists?
Carl Icahn and Peltz, two of the more-famous raiders from the 1980s, have refashioned themselves as pro-shareholder activists and are among the biggest players. Peltz prefers to be called a "highly engaged shareowner." But the most active activist is probably billionaire Paul Singer, whose Elliott Management Corp. has positions in more than 20 companies. A younger generation of activist, which came of age in the late 1990s around the time of the dot-com bubble, includes Dan Loeb's Third Point LLC, Bill Ackman's Pershing Square Capital Management and Jeff Smith's Starboard Value LP. An even younger generation, led by former acolytes of Icahn and Ackman, is now popping up. It includes Keith Meister's Corvex Management LP, Mick McGuire's Marcato Capital Management LLC and Scott Ferguson's Sachem Head Capital Management LP.
2. Who's being targeted?
Just about any company that trades at a discount to its peers, but in recent years the targets have gotten bigger. A co-founder of Peltz's fund, for example, on Oct. 9 won a seat on the General Electric Co. board. Peltz thinks the management of P&G, a $235 billion company by market value, has let the company drift and wants shareholders to award him a board seat. He claims P&G has spent more than $100 million to fend him off. Loeb is making numerous demands from Europe's largest company, Nestle SA, while David Einhorn's Greenlight Capital LLC has wrestled with General Motors Co. One of the most famous ongoing battles isn't even between a company and an activist, but between two activists over Herbalife, a seller of nutrition supplements. Ackman has been talking down Herbalife's shares since 2012, and repeatedly calls it a pyramid scheme. Icahn defends the company and publicly assails Ackman at every opportunity. The two even fought for more than an hour in a live phone-in on CNBC.
3. What do activists want?
They mostly seek to raise the value of their holdings through bigger share buybacks and more generous dividends. They also agitate for asset spin-offs and outright sales of companies. Loeb, for instance, wants Nestle to sell its 23 percent stake in L'Oreal SA and to improve margins -- as well as his fund's returns. Sometimes activists take positions in companies to prevent them from making acquisitions or from being acquired. 
4. Do activists hurt companies' long-term interests?
A 2015 study by Harvard Law professor Lucian Bebchuk of about 2,000 activist campaigns found no evidence that they caused short-term gains in share prices at the expense of long-term performance. He examined 1994 to 2007 data on stock-market returns and performance ratios, such as return on assets and Tobin's Q, a measure of the market value of a company's debt and equity relative to their book value, which indicates how successful a company is at rewarding investors. He found that target companies' results were better than their peers for three, four and five years after an activist intervened. 
5. What do the targets say?
Wachtell, Lipton, Rosen & Katz, the law firm co-founded by Martin Lipton, one of the most vocal critics of Bebchuk's research, argues that their attacks -- or just the threat of them -- forces companies to reduce investments in people and technology, which results in unemployment and slower economic growth. The law firm also has criticized Bebchuk's study for using data based on average instead of median results, which would have showed corporate performance improving only in the fifth year after an activist attack.
6. How do activists operate?
They often nudge and prod companies behind closed doors before going public with demands. If the company resists, activists typically launch proxy fights. But what makes most activist battles so compelling is the use of the so-called poison pen letter. It often contains scathing criticisms of a company, its board and its strategies. The criticisms can range from juvenile insults to accusations of inappropriate conduct. Loeb's fund, Third Point, is famous for such missives. He once branded a chief executive officer who defied him as the "CVD," or chief value destroyer, and called two great-grandsons of that company's founder members of the "Lucky Sperm Bank."
7. Do they always win?
Absolutely not. Dissident shareholders launched 109 proxy fights in the U.S. in 2016 and won nine, or just 8.3 percent, according to FactSet. That's below the 15.9 percent average for the previous four years. The 2017 record should best 2016's: As of October, dissidents had fought 81 proxy battles and won 12, or 14.8 percent. Often a company will grant board seats to avoid a proxy battle, so the figures understate the success rate. Natural-food company Hain Celestial Group Inc., for example, in September granted activist investor Engaged Capital six new board seats to stave off a proxy fight. 
8. How have managers reacted?
The first response tends to be resist, resist, resist. But managers often back down by adopting some of the proposed changes or by granting board seats to the activist. Singer's Elliott Management, for example, in April took a stake in Australia's BHP Billiton Ltd. and then urged it to spin off its U.S. shale business and shutter a Canadian potash project. The company pushed back, but eventually agreed. The heat of these fights can sometimes get the best of management. Klaus Kleinfeld, the former CEO of aluminum parts-marker Arconic Inc., was forced to step down in April after sending an unauthorized letter to Elliott, which had targeted Arconic for a lagging share price. The letter contained thinly veiled references to allegedly bad behavior by Singer and his entourage while partying at the 2006 World Cup games in Germany. A month later, Singer's fund received three seats on Arconic's board.
9. Why did activism develop?
It is largely a reaction to so-called poison pills, which many companies adopted to make buyouts so expensive they effectively stymied hostile takeovers -- even when they were in shareholders' interest. By taking stakes below the threshold that would trigger the pill and winning over fellow investors, modern activists have been able to render poison pills useless. Simply shining a light on an undervalued company can often be enough to attract would-be acquirers.
The Reference Shelf
Before it's here, it's on the Bloomberg Terminal.
LEARN MORE