What to Watch For If Catalan Leader Says 'Independence' Today
By and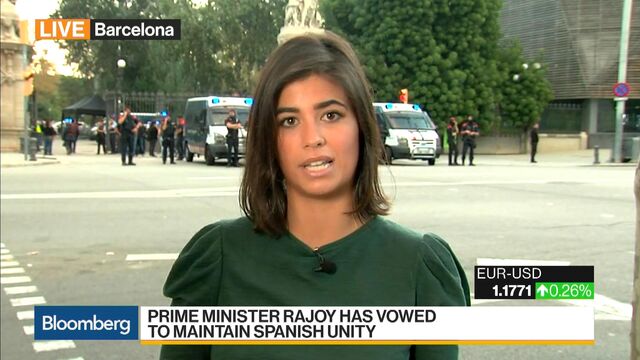 Catalan President Carles Puigdemont will testify to the regional legislature on Tuesday to report on the illegal referendum on secession from Spain held Oct. 1.
His hardcore supporters are looking for Puigdemont to declare independence from Spain at once. But with Catalan businesses already taking flight, moderates within his party are urging the president to find a more measured formula to avoid a head-on clash with the Spanish state.
Here's a quick primer on what to look for:
You're likely to hear Puigdemont say "independence."
If the Catalan leader doesn't say the magic word, he'll probably call regional elections instead. That course would be a sign he's bowed to Spanish demands he accept the rule of law and would risk an immediate backlash on the streets. He's given no hint so far that he's prepared to retreat.
If Puigdemont does utter it, the devil is in the detail.
If the Catalan Republic is supposed to take effect immediately, the reaction from Madrid could be fierce.
However, the moderates want the president to set a period of weeks or months before independence kicks in, to allow more time for potential negotiations and to avoid an immediate cliff edge for business.
A so-called deferred declaration of independence would be a sign that the Catalans are still maneuvering in the hope that the international community might step in to help broker a settlement.
Before it's here, it's on the Bloomberg Terminal.
LEARN MORE