U.K. Odd One Out in IMF Estimates With No Upward Growth Revision
By
British economy set to slow to 1.7% this year and 1.5% in 2018

Outlook dependent on new relationship with EU, IMF says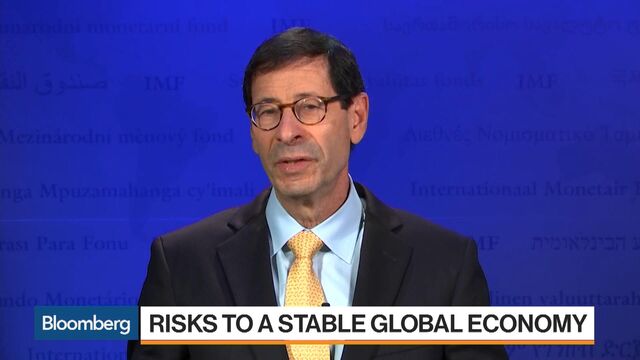 The U.K. is being left behind in the global upswing.
While the IMF upgraded its global forecasts this month -- with almost every advanced economy getting at least some upgrade -- the outlook for the U.K. was left unchanged.

At 1.7 percent this year and 1.5 percent in 2018, the U.K. will grow at just half the global average and lag both the U.S. and the euro area. The IMF said Brexit means the medium-term outlook is now "highly uncertain."
The U.K. expansion was the weakest among Group of Seven countries in the first half of 2017. The decision to leave the European Union last year is weighing on investment and fueling inflation, which is now nearly a full percentage point above the Bank of England's target.
"The slowdown is driven by softer growth in private consumption as the pound's depreciation weighed on household real income," the IMF said. The outlook is dependent on Brexit and the impact on barriers to trade, migration and banking.
The U.K. is also an outlier when it comes to inflation, with many other advances economies like Australia, Canada, Denmark, Korea, and Norway all experiencing weak inflationary pressures, according to the report.
Rate Increase
The buildup in price pressures is making BOE policy makers consider raising their benchmark rate from a record-low 0.25 percent -- possibly as soon as their next decision in November. That would see them join the Federal Reserve in tightening policy.
The normalization of policy in the two countries is "expected to proceed smoothly, without triggering large and protracted increases in financial market volatility," the IMF said.
The forecasts are also based on the assumption that the U.K.'s negotiations with the EU proceed "without raising excessive uncertainty, and the arrangements are expected to eventually settle in a manner that avoids very large increase in economic barriers," according to the report.
The U.K. will leave the bloc in March 2019, though Prime Minister Theresa May has pledged a transition period of about two years in which Britain will stay in the single market and customs union.
Compared with the last full publication of the WEO in April, the U.S. also had a downward revision in growth. For the U.K., there was a 0.3 percentage point cut for this year.
Before it's here, it's on the Bloomberg Terminal.
LEARN MORE