Trump Allies Fear His Corker Feud Is Putting the GOP Tax Plan at Risk
By and
Corker will be key vote with narrow Republican Senate majority

President risks alienating members of party with public battle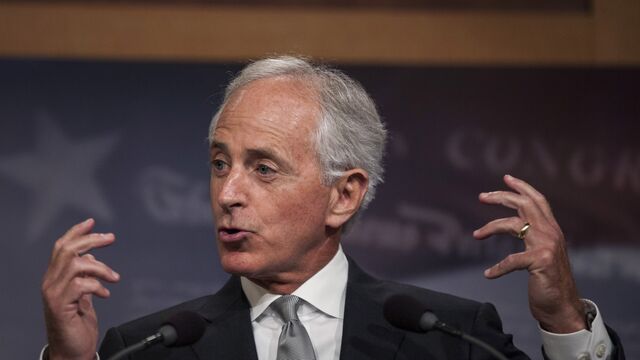 Allies of President Donald Trump say they fear his feud with Republican Senator Bob Corker risks unraveling the White House tax overhaul effort and that another major legislative failure could hobble the administration for the rest of his term.
A setback for Trump's promised plan to significantly change the tax code would only solidify perceptions that the president is an ineffective leader who is unable to convince his own party to back his priorities, according to one key ally who requested anonymity to discuss concerns about the White House agenda.

Republicans have only a narrow majority in the Senate, and Trump's decision to go on the attack against Corker sparked immediate concern among supporters of the tax overhaul effort that the president's insults also could alienate other key lawmakers. He's previously lashed out publicly at Senate Majority Leader Mitch McConnell and Arizona Senator John McCain.
One person close to the president, who requested anonymity to give a candid assessment of the situation, said the battle with Corker won't help Trump get a much-needed legislative win. Another Trump ally, who also asked for anonymity, was more dire, predicting it may turn out to be the final nail in the coffin for the president's tax bill and saying the past weekend may solidify a legacy of failure for Trump.
Trump brushed aside concerns the fight with Corker would endanger his tax overhaul.
"I don't think so. I think we're well on the way," Trump told reporters Tuesday at the beginning of an Oval Office meeting with Henry Kissinger. "People want to see tax cuts. They want to see major reductions in their taxes and they want to see tax reform. And that's what we're doing."
Ill Will Building
The ill will between Corker and Trump has been bubbling since at least August when the Tennessee senator, who previously defended the president, told reporters Trump has "not yet been able to demonstrate the stability nor some of the competence that he needs" to be successful. Over the weekend, Trump took to Twitter to label Corker a "negative voice" standing in the way of his agenda. He also claimed Corker had begged for an endorsement and decided to retire when Trump refused.
Corker's office denied that conversation occurred, and he punched back on Twitter, saying the White House had become "an adult day care center. Someone obviously missed their shift this morning." In a subsequent New York Times interview, he declined to say whether he believed Trump was fit for office and suggested the president could drive the U.S. into a third world war.
Trump continued needling Corker on Tuesday, saying on Twitter the senator sounded like a "fool" when audio of the exchange was released by the newspaper. He referred to Corker, who is 65 and has served more than a decade in the Senate, as "Liddle' Bob Corker," reprising his use of derisive nicknames for foes.
"The Failing @nytimes set Liddle' Bob Corker up by recording his conversation," Trump tweeted. "Was made to sound a fool, and that's what I am dealing with!"
The New York Times reporter who wrote the story said that Corker had aides recording the interview and they were aware he was being recorded.
One of the people close to the White House said the dispute with Corker also could undermine attempts by Chief of Staff John Kelly to impose more order in the West Wing, including developing a systematic campaign to sell the tax plan to voters. The president is likely to bristle at Corker's suggestion that Kelly is a sitter for the president, the person said, and that could lessen Kelly's influence or, ultimately, shorten his tenure.
Crucial Vote
Corker, a member of the Budget Committee, is seen as a crucial vote for tax legislation. Because he plans to retire when his second term expires in 2018, he has little incentive to compromise on his core stance. The Tennessee senator has said if the tax legislation adds even a penny to the deficit "there is no way in hell I'm voting for it." 
That's a tall order.
The tax framework released late in September by the White House and GOP leaders would add $3.1 trillion to the deficit over a decade, according to the nonpartisan Tax Policy Center. And the few revenue-raisers it specifies, such as ending the $1.3 trillion state and local tax deduction, are facing Republican headwinds and may be preserved in some form, GOP lawmakers said.
After White House economic adviser Gary Cohn said the state and local tax break was negotiable, Corker told reporters he's disappointed that the White House is showing "softness" on that provision, calling it the "easiest" revenue offset.
Wiggle Room
Corker has left himself some wiggle room by saying he'll factor in macroeconomic effects that may assume faster growth sparked by tax cuts and make up some revenue loss.
One of the Trump allies conceded Corker's vote on the tax plan was crucial but said the White House already recognized his support would be tough to get and never hinged on his relationship with Trump.
Republican leaders on Capitol Hill have called Corker constructive so far in the tax debate. They say they're encouraged by his support for a budget resolution that the Senate will need to pass as a precursor to a tax bill. That vote is all the more valuable given uncertainty about the votes of McCain and Senators Rand Paul of Kentucky and Susan Collins of Maine.
Golf Game
Relationships can repair quickly in Washington. Senator Lindsey Graham, the South Carolina Republican who criticized the president's response to the unrest in Charlottesville, Virginia, in August -- earning a tweet from the president admonishing him as "publicity seeking" -- spent Monday golfing with Trump at his course in Virginia. They discussed legislative priorities including tax reform, immigration, government funding and health care, White House spokesman Lindsay Walters said in a statement.
Graham tweeted the round was "great fun" with a "great host."
A Democratic lawmaker said some Republicans are hesitant to publicly air their concerns about Trump's behavior because they fear becoming a target.
"Many of them are concerned about being the victim of a tweet," said Representative Elijah Cummings, the top Democrat on the House Oversight and Government Reform Committee, on MSNBC on Tuesday. "Others are concerned about having someone run against them from the right."
Republicans face the same math problem on tax cuts that stymied their efforts to repeal Obamacare.
Unless they can draw Democratic votes, Republican leaders need 50 of their 52 senators to support a bill. Apart from Corker, Paul has criticized the tax framework, fretting that it would lead to tax increases for some middle-income taxpayers.
McCain, who is being treated for brain cancer, has called for the tax bill to be subject to committee hearings and amendments and insisted it should get some support from Democrats in order to stand the test of time. Those are the same demands he made on health care that proved fatal for his party's bill to repeal and replace the Affordable Care Act. He also voted against his party's tax cuts in 2001 and 2003. Collins of Maine has previously opposed provisions of the framework such as repealing the estate tax.
A former Trump White House aide who worked on taxes expressed doubt that a major tax bill can get 50 Senate votes to pass, with or without Corker's vote, predicting instead that there will be some tinkering of tax codes, allowing both parties to claim victory.
— With assistance by Steven T. Dennis, Sahil Kapur, and Laura Curtis
Before it's here, it's on the Bloomberg Terminal.
LEARN MORE