Spain's Nuclear Option on Catalonia Is No Quick Fix for Rajoy
By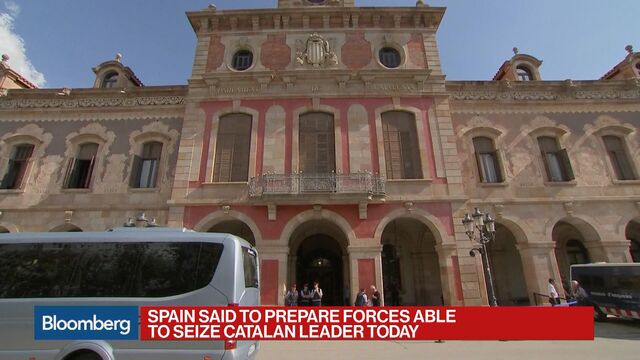 Madrid's nuclear option -- to suspend Catalonia's government -- is a hot topic of debate in political circles and company boardrooms as Spain searches for the strongest measure to halt the region's secessionist momentum.
Deep in the 1978 Constitution, two short paragraphs appear to give Prime Minister Mariano Rajoy the power to push aside the rebel administration and take direct control of the region. But putting Article 155 into action may not be so easy.
Here's what's involved:
For the government to force one of its 17 "self-governing" regions to obey laws, it must see the disobedience as "seriously prejudicial to the general interest of Spain." 

With Catalonia threatening to secede, Rajoy's probably safe on that score, but it gets more complicated

If Rajoy asks the Senate to hold an emergency session to invoke Article 155 powers, there will be no immediate or even next-day suspension of the Catalan administration, according to legal experts.

First a formal complaint must be made to the regional president -- in this case Carles Puigdemont
If his response is unsatisfactory, then the Senate must approve measures, after debate and other legislative formalities
That means a delay of at least two weeks before any crackdown ensues, even under the speediest of procedures, constitutional scholar Jorge de Esteban Alonso wrote in a law blog in September.

"155 is for situations like this -- when institutions stop functioning," said Ignacio Gomá Lanzón, a lawyer and chairman of the Hay Derecho, a legal advocacy foundation in Madrid. But its mechanics haven't been set out in legislation, and that will slow down its deployment.
Before it's here, it's on the Bloomberg Terminal.
LEARN MORE