Short-Seller Marc Cohodes Goes Long on Overstock
By
Online retailer's stock is 'ridiculously cheap,' Cohodes says

Cohodes shorted Overstock in mid-2000s, spurring fierce battle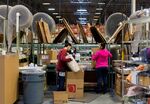 Veteran short-seller Marc Cohodes unveiled a rare long investment. Even more surprising was the target.
Cohodes has bought shares of Overstock.com Inc., the company run by his onetime adversary Patrick Byrne, he said in an interview. The former hedge-fund manager said the company's online retail business is undervalued and its blockchain unit could bring huge stock gains. Overstock jumped as much as 8.7 percent after Cohodes spoke at an investment conference in New York.
The move will raise eyebrows for people who remember the two men's acrimonious past. Back in the mid-2000s, Cohodes was a partner in a fund that went short Overstock, spurring a battle with Byrne -- including in the courts -- that became the talk of Wall Street. But Cohodes says that despite its shock value, this is a serious investment.

"This is not a stunt, this is real," the 57-year-old said. He started buying Overstock shares in May and added to the stake -- which he describes as "not small" -- in June after visiting Byrne in Salt Lake City to catch up on the company, he said. The investment has already been profitable: Overstock has surged 88 percent since the start of July, closing Monday at $30.65. "I think the stock is going to go to 100," Cohodes said.
Read this profile of Cohodes for an account of his history with Byrne.
Overstock is "ridiculously cheap," according to Cohodes, given that it has posted strong revenue growth since 2002 despite fierce competition from Amazon.com Inc. Overstock trades at 0.4 times sales, compared with a median of 2.2 times for 16 large U.S.-listed online retailers.
Blockchain Unit
Cohodes, who no longer manages outside money, also points to the potential of tZERO, an Overstock subsidiary that seeks to use blockchain technology in financial markets. For example, Overstock shares surged more than 23 percent on Sept. 27 after tZERO said it and partners were starting an exchange for digital coin trading that Byrne said will be in compliance with U.S. Securities and Exchange Commission guidelines.
But Cohodes is more excited about another tZERO creation, an electronic blockchain market for securities lending that he says could make that giant business more transparent. The technology, which Byrne says is currently being used by a select group of customers before a broader rollout, works well, according to Cohodes.
"I know a thing or two about stock loan, and I think this product is tremendous," Cohodes said. "And I think he has an intimate knowledge of stock loans," he said, referring to Byrne. "If this thing takes off, the company is going to sell at a whole lot more than a $700 million market cap. The stock will go apoplectic."
Stock Lending
Securities lending is once again at the heart of the connection between Cohodes and Byrne. Overstock's chief executive officer sued Rocker Partners and others in 2005, alleging the hedge fund took part in a conspiracy to drive down his company's stock using naked shorting -- that is, selling short shares that haven't been borrowed. Byrne said journalists, foreign stock exchanges and a clearinghouse were also involved, and the whole scheme was being orchestrated by a master criminal from the 1980s who he called the Sith Lord but declined to identify.
"There's a real irony in all of this," Byrne said in an interview last week. "There genuinely is at least several layers of irony because now we've developed a tool" that makes naked shorting impossible, he said.
Byrne has said he was "completely vindicated" in his campaign against naked shorting, because defendants in lawsuits Overstock brought, including Cohodes's firm, eventually settled. (Cohodes's fund agreed to pay $5 million, a fraction of the $750 million Overstock originally sought in damages.) But Wall Street analysts and institutional investors still shun Overstock because of concerns about Byrne that date back to that time, one of the reasons the stock trades so cheaply, Cohodes said. Just one analyst covers the company today, according to data compiled by Bloomberg.
Now Friends
Much has changed for Cohodes and Byrne since those days. For one, the two men have put aside their differences and become friends. Cohodes now operates as a private investor from a farm north of San Francisco, where he's had success shorting Canadian companies including Concordia International Corp. and Home Capital Group Inc.
"It didn't surprise me at all that Marc made up with Patrick, because I'm sure there was a time when nobody on Wall Street would return Patrick's calls," said Jeff Matthews, who worked with Cohodes at Rocker Partners from 1989 to 1993. "Marc is contrarian to his soul. He loves the underdog as much as he can hate the overdog."
Cohodes has taken this approach before, Matthews said. He pointed to Canandaigua Wine Co. (now Constellation Brands Inc.), which Cohodes said he shorted in the 1980s because he considered wine coolers, a fizzy alcoholic drink made from wine and fruit juice that had boosted the company's stock price, to be a fad. Once the shares tumbled to a level he considered too cheap, Cohodes went long the company and profited when it rose -- for reasons other than wine coolers.
Byrne, for his part, is philosophical about having his former short-seller foe as a new and friendly shareholder.
"When he started reaching out to me, I was worried about, you know, was he going to plant a bomb in my living room or something," Byrne said, joking about Cohodes. "I couldn't believe that my old enemy was reaching out to me," he said. Still, he welcomes the development. "How strange it is that we have found, after it all, that we could bury the hatchet, and not in each other's necks?"
Before it's here, it's on the Bloomberg Terminal.
LEARN MORE