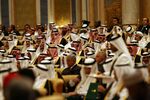 This column is about OPEC. But first: British TV sitcoms of the 1980s.
There's a scene in the Elizabethan comedy "Blackadder II" in which the titular antihero seeks advice from a crone on how to cover up a brewing scandal involving his servant. She offers three courses of action. The first two -- killing either the servant or himself -- aren't to Blackadder's liking. She then delivers the third option, "to ensure that no one else ever knows," cackling:
Kill everybody in the whole world!
This flashback was provoked by a speech made Tuesday by Mohammad Barkindo, Secretary General of OPEC, at a conference in India. Toward the end, he turned to the familiar topic of managing the oil market:
This is a shared responsibility of all producers, be they conventional or non-conventional, short- or long-cycle investors.  We all, at the end of the day, when all is said and done, belong to the same industry and operate in the same markets.  We urge our friends in the shale basins of North America to take this shared responsibility with all the seriousness it deserves, as one of the key lessons learnt from the current, unique supply-driven cycle.
Barkindo appears to be saying that the only way to deal with the oil-price cycle is for more and more producers, including those in America, to join OPEC's efforts at restraining supply.
Which is interesting.
American oil producers aren't actually allowed to work with cartels. They've been down that road at various times before, what with the Standard Oil Trust and the efforts of the Railroad Commission of Texas (which actually set the model for OPEC). And the instinct for a bit of interventionism lingers: Last year, Harold Hamm, CEO of Continental Resources Inc. and advisor to then-presidential candidate Donald Trump, actually called on OPEC and Russia to freeze their supply and boost flagging oil prices (they responded two months later).

Barkindo must know this, and yet this isn't the first time he has called for cooperation. He raised eyebrows by meeting with the heads of several U.S. shale operators on the fringes of a conference in Houston in March -- the same conference at which he lamented the shale boom hadn't been more "orderly."
It's possible his message is intended, at least partly, for consumption within OPEC itself. Several of its members are in dire financial straits and push forcefully for further action. There's a reason why Venezuela said recently that another 10 to 12 countries had been invited to join the so-called Vienna Group of nations that agreed to curb output last November. By calling on everyone to get with the program, Barkindo is just doing his constituents' bidding.
There may be more to it than that, though. Barkindo framed his comments by talking about the need to not merely rebalance the oil market -- that's OPEC-speak for clearing the glut weighing on prices -- but sustain this for "the medium-to-long term." OPEC's members should read that as an admission the world has changed.
Almost a year ago, OPEC was forced to shift strategy and invite in almost a dozen countries -- including long-time frenemy Russia --  to help try to re-establish control over the oil market. Now, having extended the agreement and kept the door open to further extensions, it is calling on even more producers to join in.
Consider that, of the world's top 20 net oil exporting nations, 17 of them are already either a member of OPEC or already signed up to the Vienna agreement:

Notice that the U.S. isn't there; it remains a substantial net importer of oil. Notice, too, that once you get beyond these countries, signing up even more begins to look like a case study in diminishing returns.
That's why I was reminded of the Blackadder scene: Once a cartel basically requires the whole world to join in, it's gone beyond any rational strategy and just isn't really much of a functioning cartel anymore. Intentionally or not, Barkindo's comments cap a year that has demonstrated just how much the impact of shale, finance and creeping threats to long-term oil demand have upended OPEC's command-and-control approach. Competition reigns.
And what of those shale producers?
For them, Barkindo's comments about continuing "extraordinary measures" provide encouragement. While no miracle cure, OPEC's efforts have helped to push oil futures back above $50 a barrel, offering U.S. producers a chance to hedge future production and thereby keep growing. Judging from what's happened to swap dealers' net position in Nymex oil contracts -- a proxy for industry hedging -- they're taking that chance:

This is, of course, the risk OPEC runs in trying to manipulate or just jawbone prices higher.
Conversely, it is possible that shale producers might detect the implicit note of desperation in the kumbaya appeal to common interests and conclude they should be cautious next year in case the whole Vienna Group agreement just collapses under the strain, taking prices with it. Maybe that's what OPEC wants them to think.
That, as Blackadder might have said, would be a "cunning plan." In the show, this usually presaged disaster. 
Before it's here, it's on the Bloomberg Terminal.
LEARN MORE