New Zealand Kingmaker Delays Government Formation Announcement
By
Winston Peters now says he won't declare decision on Thursday

NZ First continues parallel talks with National, Labour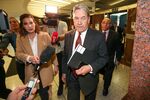 New Zealand First leader Winston Peters, who holds the balance of power after the country's inconclusive election, said he won't be making an announcement on which party he'll support to form a government until after his self-imposed Thursday deadline.
Peters told reporters late Tuesday in Wellington that while he still expects to make a decision on Thursday, it needs to be ratified by the New Zealand First board. Asked when an announcement would be made, he said: "As soon as possible after Thursday night."
Peters will hold a fourth day of coalition talks Wednesday in Wellington with the ruling National Party and opposition Labour Party, which are both seeking his support to form a government. National won 56 of the 120 seats in parliament in the Sept. 23 election, and needs New Zealand First's nine seats to reach a majority. Labour and its ally the Greens have 54 seats between them and could also govern with the support of Peters' party.
New Zealand First is holding parallel negotiations with National and Labour to see what policy concessions and ministerial posts it can win in return for its backing.
Peters, 72, has railed against foreign interests taking ownership of New Zealand assets. He also campaigned on a platform of slashing immigration, reforming the central bank and protecting the state pension entitlements of the elderly, and wants to move Auckland's port to the impoverished regional economy of Northland.
"These talks are about a change in the way this country's run, both economically and socially," Peters told reporters on Monday.
Before it's here, it's on the Bloomberg Terminal.
LEARN MORE