Microsoft President Says Governments Must Act on Election Meddling
By
U.S. lawmakers and foreign governments need to act to stop foreign operatives from manipulating elections using social media and advertising, said Microsoft Corp. President and Chief Legal Officer Brad Smith.
There are so many people buying so many kinds of ads that it didn't occur to anyone in the tech sector, government or media to ask if foreign powers were purchasing spots ahead of last year's U.S. presidential election, Smith said in an interview with Bloomberg Television.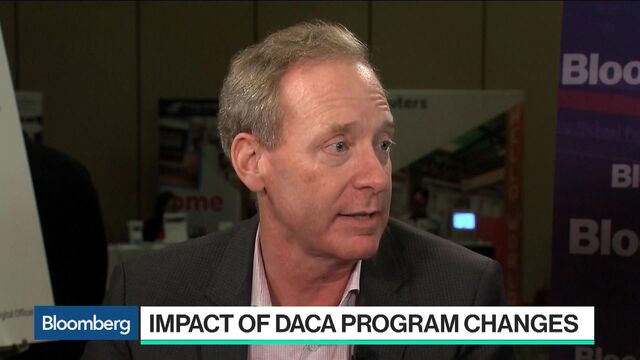 "We need to accept once again that as an industry we have a very high responsibility -- we might even have the first responsibility -- but it would be a great mistake to think these fundamental, frankly illegal acts, under international law are something the tech sector can defeat by itself," he said. "We need the governments of the world to rally. This is an attack on democracy, on the democratic infrastructure of our country. The government needs to come together and the governments of the world need to come together."
Microsoft has been scanning its properties to find any evidence of foreign election interference in ad purchases and hasn't found anything yet, Smith said.
Facebook Inc., Twitter Inc. and Google have uncovered ads on their services that were bought by Russian entities ahead of the election last year.
Before it's here, it's on the Bloomberg Terminal.
LEARN MORE