May Demurs When Asked About Rights of Citizens in No-Deal Brexit
By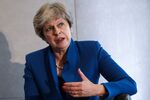 Follow @Brexit for all the latest news, and sign up to our daily Brexit Bulletin newsletter.
There are 3 million European citizens living in the U.K. and whether they can stay no matter what happens with Brexit is a sore point. Asked for an iron-clad guarantee, U.K. Prime Minister Theresa May equivocated.
"I am going to get a little technical here, Iain, and I'm sorry about that," May told her host Iain Dale, in an LBC radio phone-in.
Read more about Britain's not-so-sweet options for an EU trade deal
"The point is that there are certain rights that pertain to somebody who is an EU citizen here in the U.K. by virtue of being an EU citizen -- things like benefits they are able to access in relation to their home country and in relation to the U.K.," she went on to explain. "Some of those issues would fall away if there was no deal because there wouldn't be agreement between us and the EU about how those things would be looked at, so we would have to look at these issues separately in a no-deal scenario."
In the end, she gave an answer that might have laid to rest the anxiety of the person calling in, who identified herself as Nina: "I want EU citizens to stay here in the U.K., I want to be able to guarantee these rights, we are not going to be throwing EU citizens who are here in the U.K. out of the U.K. in the future."
Her convoluted response shows just how hard it is getting any bit of the Brexit negotiations right, even on a topic where there appeared to be the most political will to succeed.
Before it's here, it's on the Bloomberg Terminal.
LEARN MORE