Italy's Government to Call Confidence Vote on Election Legislation
By and
Voting process to start Wednesday and expected to end Thursday

Difficult to say if bill will be passed, according to Barclays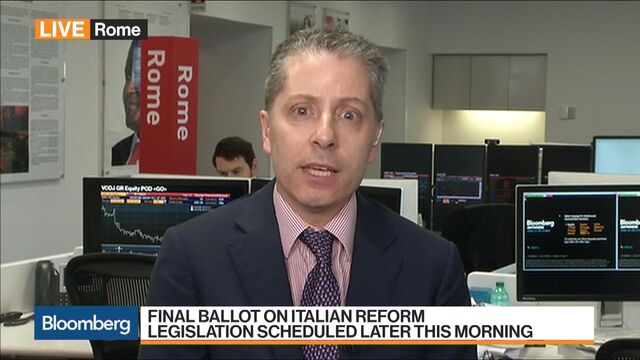 Italy's government put its future at stake by seeking parliamentary support for efforts to pass a new election law aimed at increasing political stability.
Premier Paolo Gentiloni's cabinet decided to call a confidence vote on the measure during a meeting Tuesday in Rome. Gentiloni enjoys sufficient lawmaker support to make a win in the lower house probable, though he could be hurt by defections.
The voting process is due to start Wednesday and to end on Thursday, a parliamentary spokesman said.
"It is difficult to say whether the bill will be passed. At this stage, though, it seems more likely than not that it will be approved, at least in the lower house," Fabio Fois, senior European economist at Barclays Plc in Milan, wrote in a note to clients.

The new bill, supported by the main right and left-wing parties, would facilitate the creation of coalitions before general elections next year. Changes to the current electoral system have been opposed by lawmakers including those from the anti-establishment Five Star Movement, which called the latest reform a "coup d'etat." If approved in the lower house, the bill would need to go to the Senate for a final approval.
Italy is due to hold a general election in the first half of 2018. Gentiloni's Democratic Party is currently neck and neck in polls with Five Star, founded by former comic Beppe Grillo, according to the latest voter intentions polls.
"The reform penalizes Five Star because it has ruled out taking part in any coalition before the 2018 elections," said Roberto D'Alimonte, a political science professor at Rome's LUISS University. "But I don't see the new system improving the chances of a strong majority government; we'll still be struggling with blocs which will likely fall short of a majority of seats."
— With assistance by Lorenzo Totaro
Before it's here, it's on the Bloomberg Terminal.
LEARN MORE