In HSBC Currency Trade Charts, U.S. Offers Its Theory of a Crime
By and
Mark Johnson is on trial charged with fraud, conspiracy

Government hired expert witness to compile complex data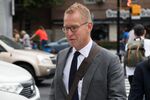 U.S. prosecutors say former HSBC Holdings Plc currency trader Mark Johnson tipped a group of colleagues to misuse a large client order and reap $8 million in illicit profit by trading ahead. To help make the case compelling for jurors, prosecutors enlisted an expert witness, Ross Waller, an ex-Bridgewater Associates' trader. Waller reviewed trading records and created charts that seek to explain the complex foreign-exchange transactions. 
Next up in the trial in Brooklyn, New York, is the defense case. John Wing, Johnson's lawyer, said he will seek to show the government is attempting to criminalize everyday actions in the virtually unregulated currency market. He also plans to argue that the client paid a "commercially reasonable price." Some of Waller's graphics, which were entered into evidence, follow:

Waller's trading-volume chart (above) shows HSBC's share of buying pounds on Dec. 7, 2011, on Thomson Reuters Corp.'s trading platform, dominating activity before 3 p.m. The government alleges HSBC's activities caused the pound to strengthen, which led the bank's client, Cairn Energy Plc, to pay an inflated price.

This chart (above) combines the movement in the pound-dollar exchange rate and the position taken by Frank Cahill, a former HSBC currency trader, who filled the $3.5 billion order for Cairn Energy that day.

And while Cahill was buying pounds from London, prosecutors allege New York traders were also participating in the scheme to "ramp" up the price of the pound. The chart (above) shows the size of the positions of four New York traders through the day.

The chart (above) shows the trading positions of Johnson, Stuart Scott, the bank's former head of foreign exchange cash trading in Europe, and members of the bank's London foreign-exchange trading desk. According to the government, Johnson and Scott sold their positions after the Cairn order was filled and the price of sterling reached its peak. (Scott has also been charged in the case. He was arrested in London and is fighting extradition. His lawyer declined to comment at the start of the trial.)

Waller tallied some of the profits allegedly gained by HSBC traders in London and New York in their proprietary trading accounts, or P-Books, by trading ahead of the Cairn order. Robert Sherman, a spokesman for HSBC, and Serge Sarramegna, a trader who has since left HSBC, declined to comment. The other current or former traders -- Paul Mischenko, Paul Clark, John Tammaro, Jacques Mehani, Gareth Cook, Nicholas Francis, Michael Maier and John Biggs -- either didn't return calls and emails or couldn't be reached for comment. No one other than Johnson and Scott have been charged with wrongdoing.
— With assistance by Gavin Finch
Before it's here, it's on the Bloomberg Terminal.
LEARN MORE