House Panel Subpoenas Firm That Produced Trump Dossier
By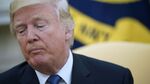 The House Intelligence Committee chairman has issued subpoenas to the firm that helped produce a salacious opposition-research dossier that claimed Donald Trump's presidential campaign colluded with Russians, two people familiar with the matter said Tuesday.
One person said Republican Devin Nunes of California signed the subpoenas to Fusion GPS, a private investigative firm in Washington, without cooperation from committee Democrats. Another person said the subpoenas seek information on the creation of the dossier, written mostly by former British spy Christopher Steele.
Along with claims that Trump's campaign colluded with Russians, the dossier purported to have compromising information on his ties to and activities in Russia, which the president has denied.
Nunes has previously sought to learn whether U.S. intelligence agencies directly supported or helped pay for the compilation of the dossier on Trump, or relied on its information in their Russia-interference probes. If the agencies did rely on some of its information, the chairman has said he wants to know what steps were taken to verify its accuracy.
Nunes stepped back from running the panel's probe into Russian meddling in the U.S. election amid controversy, but kept his job running the committee and remains involved in some issues related to the probe.
Before it's here, it's on the Bloomberg Terminal.
LEARN MORE