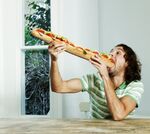 HelloFresh SE wants to stage a food revolution. Unfortunately, its world has been turned upside down in the past year. The German meal-kit group may have to swallow a much lower valuation for its planned initial public offering than it has earned in prior funding rounds.
HelloFresh, which is 53 percent owned by investment firm Rocket Internet SE, makes and delivers online meal kits. The appeal is smart recipes, and ingredients that pass through a shorter supply chain than if purchased at a supermarket.
Some tech and biotech firms are so complex investors rely mainly on the guidance of the company when assessing their prospects. While HelloFresh has a whizzy logistics operation and a big database on customer behavior, investors, as consumers, can probably form their own view as to whether the meal-kit value proposition really will endure.
HelloFresh says food is a 7.5 trillion euros ($8.8 trillion) market globally. On that basis, it could potentially become a relatively big player that takes a small slice. Problem is, it's not alone in thinking that.
To state the obvious, groceries can be ordered easily online for home delivery from the incumbent supermarkets, and recipes are free on the web. Supermarkets sell meal kits, too. Now add in the threat from Amazon.com Inc., whose ambitions in groceries and food led it to buy Whole Foods Market Inc. earlier this year.
For people who can't plan their meals, the takeaway delivery market is offering more choice all the time.
Little wonder then that investors are souring on meal kits even as they gobble up online takeaway offerings. Luckless Blue Apron Holdings Inc., HelloFresh's U.S.-listed peer, is trading at around half its June IPO price since debuting days after the Amazon/Whole Foods transaction.

HelloFresh has shown some impressive growth. Revenue doubled in 2016, although the rate this year is expected to be more like 50 percent, with sales spread roughly evenly over the first and second halves. That would imply revenue of about 900 million euros for 2017. On Blue Apron's 1.4 times multiple of prospective sales, HelloFresh would be worth 1.3 billion euros, ignoring cash and IPO proceeds. Cash at the half year was 113 million euros.
Like Blue Apron, HelloFresh has yet to turn a profit. Its Ebitda margin has gone from minus 36 percent in 2015 to negative 7.4 percent in the second quarter; the company anticipates Ebitda break-even in the next 15 months. One wonders if it's too soon for HelloFresh to come to market, but the group needs as much as 300 million euros to fund expansion.

Maybe HelloFresh deserves a premium over Blue Apron for being a more diversified business geographically. Either way, the stock-market challenges of its North American rival will weigh on its valuation.
In 2015, HelloFresh was worth about 2.6 billion euros based on the company's last funding round. Late last year, that had fallen to 2 billion euros as it passed the cap around again. Not quite the revolution HelloFresh had in mind, surely.
Before it's here, it's on the Bloomberg Terminal.
LEARN MORE