Luxury Travel
Gulfstream to Keep G550 Private Jet Alive for Special Missions
By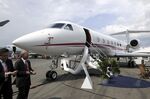 Reports of the Gulfstream G550's death were premature.
The General Dynamics Corp. unit will keep making the private jet, once the workhorse for international business travel, even after the planemaker starts delivering a newer aircraft of about the same size.
The older plane has steady sales for special missions -- such as medical transportation and military reconnaissance and surveillance -- that justify continued output even as Gulfstream works toward certification of the new G600. Many people in the industry thought the G550 would be discontinued, just as another model was when a similar new jet was developed. The new plane will likely be priced higher than the G550.
"We're telling customers now that we're going to be building that airplane for several years to come,'' Gulfstream Chief Executive Officer Mark Burns said in an interview Tuesday. "I don't see the same path on the 550 that we took on the 450."
The G550 -- venerated in the Tom Cruise spoof "Tropic Thunder" and elsewhere in pop culture -- was the longest-range business jet before the arrival of the larger G650 in 2012. Newer jets began sporting wider cabins that made flying more comfortable.
Before it's here, it's on the Bloomberg Terminal.
LEARN MORE